While it may not seem obvious to the outside world, there is a key component that Formula 1 fundamentally relies on: data.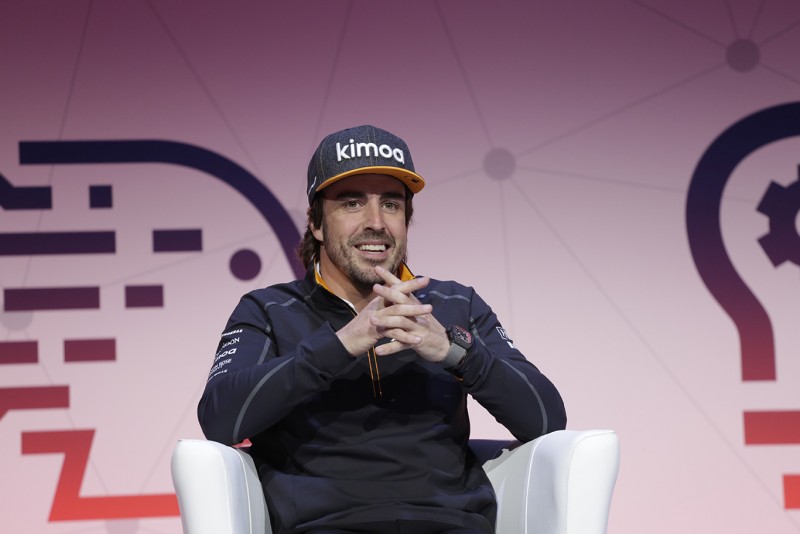 The sport has always been a laboratory for experimental technologies, and today generates an almost incomprehensible amount of data, said McLaren driver and double Formula 1 World Champion Fernando Alonso yesterday.
In a panel discussion during the Fourth Industrial Revolution keynote, Alonso said data and connectivity are crucial elements in a successful race weekend.
"People at home watch the TV and maybe they see 22 cars running around the circuit, but I think each car is providing so much data in every single second that I think no-one can imagine."
"Formula 1 has been always a laboratory for many things, many experiments and many new concepts, and it's no different in data. Every single movement we do with the car, every steering wheel input, every throttle input, brake pressure input is transmitted immediately in real time to staff at the team's headquarters in the UK, who study and analyse the data to "provide us with the information that we need to improve our efficiency when we are driving, our inputs to perform better."
Zak Brown, executive director of McLaren Technology Group, was also present during the panel discussion. He highlighted the innovations surrounding the collection, analysis and delivery of data, and pinpointed automation as the primary cause of evolutionising even one of the world's most technologically advanced industries.
"The possibilities today are unbelievable, and connectivity has now become our oxygen to a certain extent," he said.
Citing advances in the speed and consistency of connectivity, Brown said there "are no boundaries to where technology innovation will take us.
"It's a part of our day-to-day life that everyone, not just F1 teams, depends upon," he added.
While the focus of the discussion centred on the technology used within the sport, the human element to Formula 1 is still a "key part" of ensuring a stress-free race day, said Alonso.
And McLaren's team performs around 20,000 race simulations on the eve of a race to determine the optimum race set up and pit-stop strategy, the driver is the first to experience changes on the day, such as rain.
"You tell the team it's raining and they are at the computer, they only see the computer, they only see the data… Sometimes it'd be easier for them to just put their hand out of the pit and see that it's raining," joked Alonso.
Formula 1 is exhibiting its tech-focused initiatives at its own stand for the first time ever at MWC 2018.