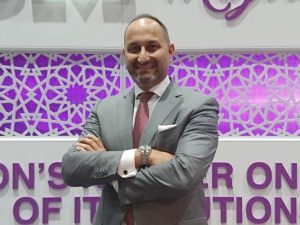 Gulf Business Machines (GBM), a regional provider of IT solutions, has revealed that cybersecurity measures need to be increased in companies across the GCC to cater to the digital habits of today's workforce.
GBM released its findings as part of its latest security survey, which was unveiled at the Gulf Information Security Expo & Conference (GISEC) 2017. The annual GBM Security Survey, now in its sixth year, polled over 1400 people based in the United Arab Emirates, Qatar, Oman, Bahrain and Kuwait. The survey individually targeted Generations X, Y and Z to understand the varying digital behaviour among these generations and subsequently, the capabilities of today's companies to provide a secured and mobile work environment.
Generation X is defined as individuals born between 1960 and 1979, while Generation Y (also known as millennials) includes those born between 1980 and 1995, and Generation Z includes those born after 1996.
Smartphones were voted as the most preferred device to be online among the three generations with over half of Generation Y choosing smartphones over tablets and laptops. This was also reflective in the choice of operating system with 47 percent of Generation Y preferring Apple iOS to Microsoft Windows or Android, whereas 52 percent of Generation X preferred Microsoft Windows as their operating system. Social media also plays a dominant role with Generation Y active on up to 10 social media platforms, and 42 percent choosing their personal social media network as the trusted news source over traditional news outlets. Companies in the GCC however restrict access to social media with 84 percent of Generation X and 53 percent of Generation Y stating that they have IT policy restrictions in place in their workplaces. This indicates the need for companies to review their social media policies as the current workforce is most accessible and dependent on their social media channels.
Organisational security is also another point of debate between the generations with 60 percent of Generation X confident that their companies have the tools to predict and prevent cyber-attacks while the same percentage of Generation Y stated the opposite. While inadequate corporate investment in IT security may be a contributing factor, there also appears to be a lack of security awareness programmes within GCC companies, which in turn leads to reduced confidence among Generation Y in their companies' security capabilities.
Hani Nofal, vice president, Intelligent Network Solutions, Security and Mobility, GBM said, "Over the last few years, the GBM Security Survey has established that companies across the GCC need to pay closer attention to their IT operations, with cybersecurity being the predominant area requiring a stronger infrastructure and increased investment.
"Since the last survey conducted in 2016, we have seen a 10 percent increase in trust among GCC executives in their companies' ability to handle cyber-attacks, which is encouraging. However, there seems to be a general disconnect in the awareness of organisational security, which indicates the need to find the right channels to communicate with the different generations which make up the current workforce. Moreover, Generation X prefers the Corporate-Owned Personally-Enabled (COPE) programme while Generation Y prefers the Bring Your Own Device (BYOD) programme, further highlighting the urgent need for companies to continually secure their data."