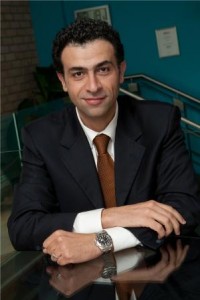 1.       What are your company's key products and services?
Ruckus Wireless has distinct Smart Wi-Fi product lines: ZoneFlex, ZoneDirector and FlexMaster, using advanced capabilities for control and administration of Ruckus Smart Wi-Fi APs and Smart WLAN systems. All Ruckus Wireless products are completely standards-based. The company's patented technology greatly increases reliability and range using automatic interference avoidance and real time selection of the best signal path for each Wi-Fi transmission, and many advanced features.
Our key product line is Ruckus ZoneFlex – a new line of Smart Wi-Fi wireless LAN product targeted for enterprises as well as Service Providers (Carriers).
2.       Which product lines and services will it focus on at GITEX?
We will be launching two new products – the ZoneFlex 7982 and the ZoneFlex7321.
The ZoneFlex 7982 delivers consistent performance and maintains stable connections within high-capacity environments and to smart mobile devices that constantly change their location and orientation.
The ZoneFlex 7321 will be the industry's most affordable dual-stream 802.11n access point.
We will also showcase ZoneFlex 7025, which integrates high speed 2.4GHz 802.11n Wi-Fi technology with wired Ethernet ports into an elegant, inconspicuous and low-profile wall jack that fits into an electrical junction box.
3.       What benefits do your products and services bring to regional customers?
Our products deliver simple, reliable, and affordable solutions. Our regional customers are looking for a more reliable Wi-Fi performance that is not affected by the increase use of sophisticated devices and the growth of a greater demand for video and high-bandwidth applications. Ruckus takes a different approach than other Wi-Fi technologies. Where others try brute force, Ruckus uses intelligence to steer around any interference and slip past the obstacles. Our Smart Wi-Fi technology combines hardware, software, and services to deliver faster wireless connections. Our technology is also noteworthy for its simplicity of installation, maintenance, and operation. Our products and services advantage is the ability to deliver Pervasive Performance.
4.       Why is your company exhibiting at GITEX Technology Week?
We believe Gitex is an excellent gateway to new channel and verticals and will give us the opportunity to launch new products, address customer and partner inquiries and address the increasing demand for smarter WIFI systems. Our main team for Gitex 2012 includes Arnaud Le Hung, EMEA marketing director, Nader Baghdadi, ME regional sales director, and James Calderbank, EMEA sales director.
5.       What does your company hope to achieve by appearing at GITEX Technology Week?
At Gitex Technology Week we will insure that we will meet with our customers and update them with the latest editions to the Ruckus Wireless product range. Gitex also offers a platform to invite some of our partners from around the world to participate on our pavilion and discuss opportunities for the Middle East market. The exhibition will be a significant platform for us to further strengthen our brand awareness in the region and to emphasise our commitment in the Middle East through our continuous investments.
6.       What are your company's main recent achievements in the Middle East market?
Our major achievements in the Middle East are in the hospitality and the education verticals, and collaborating with service providers to support the 3GO initiatives. Some of our global partners include the prestigious Westin Diplomat and Sheraton Vistana Resort.