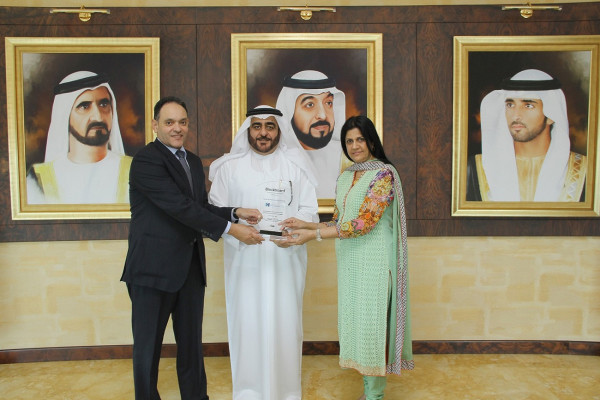 Hamdan Bin Mohammad Smart University (HBMSU) received the Blackboard 'Excellence in E-Learning' award during the Blackboard Teaching and Learning Forum held recently in Dubai.
The University was honoured for its contributions to the development and adoption of E-Learning in the UAE by American educational technology company Blackboard Prof. Abtar Darshan Singh, Dean, HBMSU's e-Education School, received the award on behalf of the University and presented it to the Chancellor, Dr. Mansoor Al Awar.
Among the reasons cited for conferring HBMSU award were its role in the development of the Tamkeen System, a collection of Information and Communications Technology –based pedagogical templates that educators can use for more impactful learning; the expertise and extensive knowledge that HBMSU faculty has in designing, developing and implementing full online learning programmes; and the in-depth research as well as experience in online learning processes, design and templates that HBMSU has accumulated and shared with UAE learning communities.
Dr. Mansoor Al Awar, Chancellor, HBMSU, said, "It was a great honour to be recognised for our pioneering work in e-Learning in front of elite members of the Middle East higher education community. More so as we are honoured by Blackboard, an educational technology leader that shares our vision of harnessing technology to produce more empowered and prepared learners. This latest achievement motivates us to double our efforts to make the UAE a model of innovative learning and an IT-literate society."