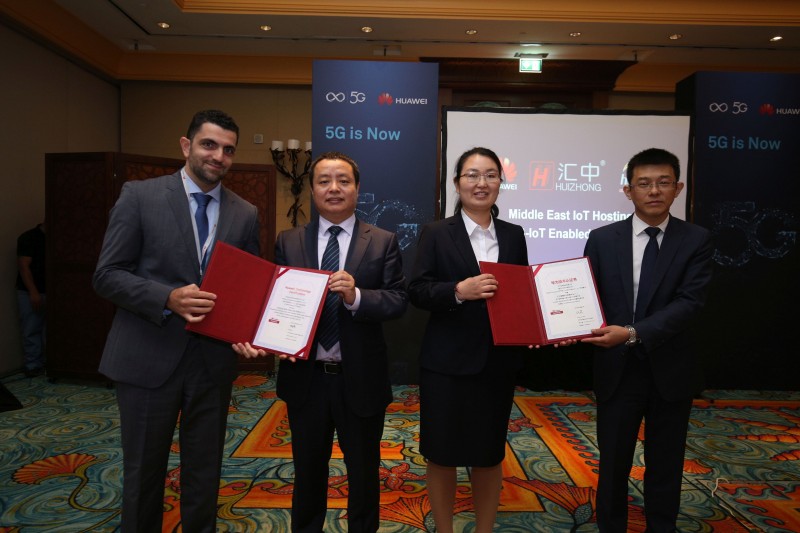 Huawei has announced the launch of the Middle East's first Multitenant Internet of Things (IoT) Hosting Centre.
The new facility aims to incubate the local digital ecosystem and accelerate IoT business development in the region.
According to Huawei, based on IoT Hosting Centre and ecosystem enablement, Huizhong and Hayat Communications are the first partners to obtain the Middle East IoT Hosting Centre's 1st NB-IoT enabled certificate.
IoT Hosting Centre is Huawei's new and innovative platform as a service solution that provides OceanConnect services such as open device connectivity, device management, and application enablement to customers across the Middle East region. It is designed to quickly develop IoT business in the Middle East region with reduced initial investment cost compared to CAPEX mode while providing a fast time to market by plug and play deployment.
In the Middle East, the IoT Hosting Centre comes along with the IoT Regional Experience Centre to speed up IoT ecosystem development locally. The Regional Experience Centre provides a pre-integration testing environment for application developers, device, and module and chip manufacturers. It will also allow Huawei and local partners to explore cutting edge developments including network solution verification, new application innovation, device integration, and product compliance certification. As of now, Huizhong and Hayat Communications have already completed the Middle East IoT Hosting Centre 1st NB-IoT enabled certification.
"IoT Hosting Centre and the Regional Experience Centre follow Huawei' series of initiatives and full commitment to developing IoT in the Middle East. These initiatives will help Middle East customers to focus on quick IoT business development while leaving the technological challenges to Huawei and partners," said Su Wang, VP of Marketing, Huawei Middle East.
The announcement was made on the sidelines of the SAMENA Telecom Leaders' Summit held in Dubai earlier this month.
This newly launched IoT Hosting Centre and ecosystem strategy is aimed at accelerating digital transformation by bringing Huawei's global IoT experience and partnership locally through empowered cloud. Huawei is working with over 700 global partners on 50+ use across 40 industries. The system also provides over 170 open APIs and serial agent software to promote app release, simplify device access, guarantee network connection, and achieve a seamless connection between upstream and downstream products for partners.