Chinese ICT leader Huawei has said that the strides the company is making towards 5.5G represent the foundation for the future. The comments were made during the Global Mobile Broadband Forum (MBBF) at Bangkok in Thailand.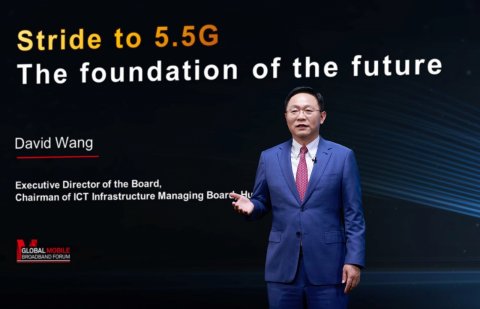 5G is in the fast lane. As of October 2022, more than 230 carriers around the world have launched commercial 5G services. In total, the industry has set up over three million 5G base stations, serving more than 700 million subscribers.  
Industry digitalization is the next wave of global economic development. As a key enabler of digital transformation, 5G opens up a world of new opportunities. But the ICT ecosystem needs to work together to make the most of them.  
The next evolution in 5G technology is 5.5G which will upgrade network capabilities by 10X, support 10 Gbps experience, and enable 100 billion connections and native intelligence for numerous services. It will deliver a 10 Gbps experience through MIMO technology that boasts larger bandwidth, higher spectrum efficiency, and higher-order modulation. In short, 5.5G is necessary to build an intelligent world.  
Huawei was the first to propose new directions for 5.5G, with the aim of promoting sustainable development for 5G into the future. Huawei first proposed an outline for 5.5G in 2020, and 3GPP officially named the concept "5G-Advanced" in 2021.
As an upgraded version of 5G, its features will power future industries such as the IoV, IoT, robotics, and manufacturing, and serve as a key driving force of the digital economy. 
Huawei, together with the GSMA and GTI, recently hosted the Global Mobile Broadband Forum (MBBF) 2022 in Bangkok, Thailand, to explore, among other topics, how Huawei is working with operators and industry partners to define 5.5G industry standards and propose 5.5G network features. 
During the Forum, David Wang, Huawei Executive Director of the Board and Chairman of ICT Infrastructure Managing Board, delivered a keynote speech titled 'Stride to 5.5G: The foundation of the future' noting how, through concerted efforts, the industry has made significant progress and is ready to make the leap to 5.5G. "To hit this milestone, all industry players need to prepare on all fronts so that the world can move faster towards the 5.5G era and eventually build a better, intelligent world together," Wang stated.  
Wang highlighted various breakthroughs after two years of 5.5G evolution. First, 5.5G standardization is on track, making it more than just a vision. Second, the industry has made breakthroughs in key technologies for 5.5G, ultra-large bandwidth, and extremely large antenna array (ELAA) can now deliver a 10 Gbit/s experience. Third, the industry has a clear vision for the IoT landscape, noting that three types of 5.5G-enabled IoT technologies supported by 5.5G, namely NB-IoT, RedCap, and passive IoT, are developing rapidly and will support numerous IoT connections. 
Wang also made it clear that ultra-broadband 5.5G will be a key milestone on the path to an intelligent world and recommended that the industry take four key steps to accelerate this process. He went on to call on all industry players to work together and move faster towards ultra-broadband 5.5G. 
5.5G ushers in the digital era 
While the previous mobile generations were all about connectivity, 5.5G will go beyond this limited scope to include sensing, resulting in a wealth of new scenarios and applications. Wireless sensing and fiber sensing technologies will be used in vehicle-road collaboration and environment monitoring. Passive IoT will integrate cellular and passive tag technologies to create 100 billion potential connections. 5.5G core networks will redefine architectures and foundational technologies to enable new service scenarios, such as industry private networks, industrial field networks, and a new calling. 
Also, diversified computing will enable diversified applications in the 5.5G era. Here, computing architectures will be redefined to increase computing efficiency by 10-fold through chip engineering and full peer-to-peer interconnection architectures. 
Additionally, data-centric storage will break through existing limits in storage architecture. Future storage will improve storage performance by 10-fold through data-centric hardware and software architecture and diversified data application acceleration engines. 
The next generation of connectivity will also unleash the full potential of AI-driven networks. Here, full-stack AI native will make L4 highly autonomous driving networks (ADNs) a reality. ADNs have become a common goal of the industry. Full-stack AI native, from network elements to networks and services, will accelerate breakthroughs in ADN technology. The results of innovation, such as compression algorithms for hundreds of network indicators and unknown fault identification by AI foundation models, will be widely applied in the 5.5G era. 
Lastly, developments in green technology and system-level innovation will increase energy efficiency. The ITU-T has adopted Network Carbon data/energy intensity (NCIe) as the unified energy efficiency metric to guide the industry's green development roadmap. "Huawei has developed innovative solutions for green sites, green networks, and green operations to increase network capacity and cut energy consumption per bit. These solutions will empower operators in the 5.5G era," Wang stated. 
Moving forward, Wang said that the industry needs to tackle five new areas: set standards and promote fundamental technological research; secure more spectrum for ultra-large bandwidth, products, ecosystems, and applications to ensure 5.5G success; prepare for 5.5G with mature networks, devices, and chips where networks and devices are upgraded to deliver 10 Gbit/s experiences; collaborate within ecosystems to build a thriving 5.5G ecosystem; and, ensure developers continue to work on groundbreaking applications.  
"To meet the new requirements of toC services and toB industry applications for 5G, Huawei will continue to innovate 5.5G, enhancing eMBB/URLLC/mMTC capabilities, and adding revolutionary capabilities such as sensing, passive IoT, positioning, and intelligence, unveiling a new journey of the industry," Wang concluded.