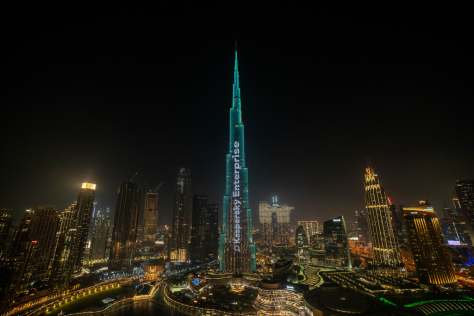 Kaspersky has illuminated the world's tallest building, Dubai's Burj Khalifa, in an astonishing LED display to showcase the highest protection from cyberthreats. The light show went live on October 12, aiming to highlight the growing cyber threat landscape enterprises face today, and stressing the need for businesses to have a reliable cybersecurity partner to achieve sustainable development.
In recent years, the world has experienced a rapidly evolving threat landscape for enterprise, as cybercriminals strike increasingly high-profile targets. According to Kaspersky's findings, in the Middle East alone, every third industrial computer was attacked by threat actors in the first six months of 2022. This is in line with the global trend, showing that as many as 31.8% of ICS computers worldwide faced at least one attempted attack in H1 of the current year.
Given this trend, cybersecurity should be a top priority for enterprises, so to promote this message, Kaspersky raised it to the greatest heights. The iconic Burj Khalifa building showcased how a partnership with a trusted cybersecurity vendor can benefit businesses and help shield them against online hazards, demonstrating the company's commitment to providing the best-in-class enterprise security that organisations can trust.
"For more than 25 years, Kaspersky has been building a safer world. Over time, we evolved from offering endpoint security to complete business protection, having accumulated truly unique knowledge about cyberthreats and expanded our telemetry about them to reach more than 200 countries and territories. Powered by this global threat intelligence data, our portfolio of enterprise solutions combines different layers of protection against any type of cyberthreats to meet the needs of organisations with different levels of cybersecurity maturity", comments Amir Kanaan, Kaspersky Managing Director in the Middle East.
Along with the global anniversary, Kaspersky also marks 15 years of operating in the Middle East region. Earlier this week, as part of the GITEX event, the company also presented its portfolio of cybersecurity solutions for enterprises. This included Kaspersky Managed Detection and Response, which delivers advanced round-the-clock protection from threats, supported by one of the industry's most successful threat hunting teams. Kaspersky's Threat Intelligence, was also displayed, providing access to technical, tactical, operational and strategic threat intelligence data from the world-leading researchers and analysts.
Kaspersky has been treating the security of its customers as a top priority, regularly undertaking third-party assessments by independent industry experts to ensure it provides industry-leading solutions. In 2021 alone, the company participated in 75 independent tests and reviews and received 57 first place awards. Most recently, Kaspersky Endpoint Detection and Response Expert showed a 100% "Total Accuracy Rating," having detected every element of each threat in the comparative Enterprise Advanced Security assessment by the SE Labs independent security testing organisation.
Learn more about Kaspersky enterprise security here.