Landmark Group has announced that Apple Pay is available across all the Group's retail stores and E-commerce sites and apps in the UAE, on the very first day of the Apple Pay launch in the country.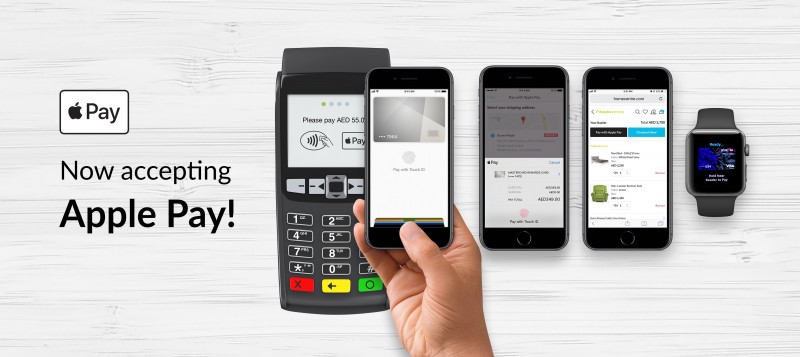 Apple Pay is easy to set up and users will continue to receive all the rewards and benefits offered by Credit and Debit Cards. In stores, Apple Pay works with iPhone SE, iPhone 6 and later, and Apple Watch.
"We are thrilled to launch Apple Pay for the Landmark Group, our many brands and millions of customers!" said Savitar Jagtiani, Chief Digital Officer, Landmark Group. "Apple Pay is a remarkably simple, convenient, secure and private mobile payment system that makes shopping experiences easier across our stores, sites and apps. We're encouraged by the global success Apple Pay has already achieved and look forward to delighting our shoppers with it regardless of channel."
Security and privacy are at the core of Apple Pay. When you use a Credit or Debit Card with Apple Pay, the actual card numbers are not stored on the device, nor on Apple servers. Instead, a unique Device Account Number is assigned, encrypted and securely stored in the Secure Element on your device. Each transaction is authorised with a one-time unique dynamic security code.
Online shopping in apps and on websites accepting Apple Pay is as simple as the touch of a finger with Touch ID, so there's no need to manually fill out lengthy account forms or repeatedly type in shipping and billing information. When paying for goods and services on the go in apps or Safari, Apple Pay works with iPhone 6 and later, iPhone SE, iPad Pro, iPad Air 2, and iPad mini 3 and later. You can also use Apple Pay in Safari on any Mac introduced in or after 2012 running macOS Sierra and confirm the payment with iPhone 6 or later or Apple Watch, or with Touch ID on the new MacBook Pro.
Apple Pay is available at all Landmark retail stores, including Home Centre, Splash, Max, Babyshop, Lifestyle, Centrepoint, Shoe Mart, Shoe Express, Home Box, SportsOne, Emax and Iconic. It's also available at all the Group's international brands like New Look, Reiss, Lipsy, Koton, Steve Madden, Dune, Kurt Geiger, Yours, Blocco 31, Ecco, Kazar, Nose, Pablosky, Puket, Aerosoles and Carpisa.
The digital payment method is also available on the Group's 8 E-commerce sites and apps including HomeCentre.com, SplashFashions.com, MaxFashion.com, BabyshopStores.com, ShoeMartStores.com, LifestyleShops.com, CentrepointStores.com and HomeBoxStores.com.
The Group's next step is to integrate Apple Pay with Shukran, its award-winning loyalty programme. In stores, customers will be able to select their Credit or Debit Card, click on the virtual Shukran card and hold the device to a terminal to complete the process.