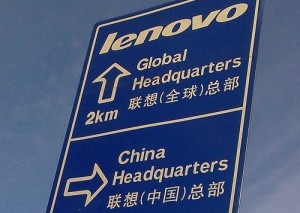 Lenovo and EMC will team up to develop and sell server and storage technology, with an eye to the Chinese market, the companies said today.
The partnership will improve Lenovo's standing in the server and storage space, while giving EMC greater access to China and other high-growth markets, the companies said in a statement.
Lenovo is fast rising to possibly become the world's top PC vendor later this year, already dominating in its home market of China. EMC, meanwhile, leads as the global top vendor for external disk and open networked disk storage systems, according to research firm IDC.
Both companies, however, have more room to expand in China's server and storage market. Last year, Lenovo had the fourth largest share, at 10.5 percent, for the x86 server market, with Dell, IBM and HP ahead, according to research firm Gartner.
As for EMC, the company generated US$297 million from the country in storage hardware, leading among its competitors, said Jimmie Chang, an analyst with Gartner. But most of the storage sales were to large enterprises, and EMC has been wanting to target China's small and medium businesses, he added.
As part of the alliance, the companies have formed a server technology development program meant to improve Lenovo's x86 servers, which will be embedded into select EMC storage systems over time. Lenovo will also manufacture and resell EMC's networked storage products to customers in China, and eventually other markets.
Under the partnership, Lenovo and EMC are also establishing a joint venture to sell network-attached storage (NAS) systems to small and medium businesses. The joint venture, which takes certain resources from EMC's Iomega business, will be majority owned by Lenovo.
"China has a big customer base, and Lenovo has good customer relationships with businesses and the government," Chang said. "EMC has the technology, and Lenovo has the sales channels. This gives them a very strong market position."