CNME Editor Mark Forker secured an exclusive interview with Giovanni Di Filippo, President EMEA at Lenovo Infrastructure Solutions Group, to learn how the company is going to leverage their technologies to 'enable' Saudi Arabia to achieve their transformation goals – and explained how the company has been able to become the market incumbent in the entry storage space.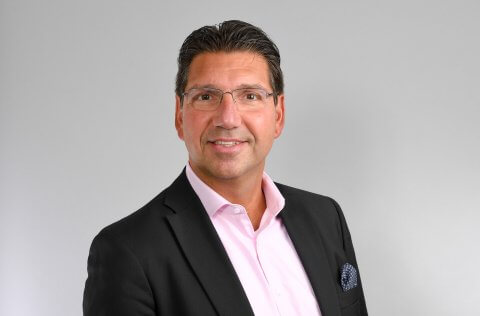 Lenovo is known globally as an aspirational company that is always testing the boundaries as to what's possible when it comes to its technology.
The ambitious mindset that is embedded in the cultural fabric of Lenovo filters from the top down.
Lenovo Chairman Yang Yuanging is on a mission to make the company the market incumbent when it comes to infrastructure solutions globally.
In 2013, he wanted to make Lenovo the No.1 PC provider in the world – and he achieved that within 7 years.
Can Lenovo leverage their technology, knowhow and expertise to conquer the infrastructure solutions space worldwide?
Only time will tell, but the man tasked with the responsibility of establishing Lenovo as a force across the EMEA region is the dynamic Giovanni Di Filippo.
Di Filippo has carved out a hugely successful career in the IT ecosystem across EMEA, holding several high-level executive positions with major IT players such as Riverbed, SAP, Cisco and Sun Microsystems.
The passion, energy and enthusiasm he has for his current role at Lenovo is very palpable throughout our conversation – and he is very confident that the company can achieve the ambitious targets set by their chairman.
We kickstarted the conversation by briefly touching on Lenovo's participation at GITEX Global last October, which Di Filippo described as the 'most successful' event he has ever participated in.
"GITEX was without doubt the most successful event that I have ever participated in my 25 years working in the IT industry. The energy at our stand was electric, and the sheer volume of customers and prospective clients that we engaged with throughout the duration of that week was simply incredible. I think the key to our success was the fact that we didn't showcase products at GITEX, instead we opted to display solutions at our booth. The solutions were intelligent and infused with smart technology and that really appeared to resonate with those visiting our stand during GITEX," said Di Filippo.
It has been well publicised that Saudi Arabia is undergoing a seismic economic transformation under the progressive leadership of MBS.
In a bid to reduce the country's dependency on oil, it is embracing nascent and disruptive technologies to turn the nation into a global hub for technology, entrepreneurship and tourism.
As a result of this, there is a swathe of new opportunities emerging in the region for tech heavyweights like Lenovo to really help Saudi Arabia meet the objectives and goals of their Saudi Vision 2030 plan.
LEAP, is an IT and technology conference held in Riyadh for the first time in 2022, and in 2023, Di Filippo is planning on using the event as a platform to help him take Lenovo to the 'next level'.
"I now want to take what we did at GITEX to the next level. I have spoken to my leadership and marketing teams at great length in terms of what I want us to do at LEAP. We are going to present localised solutions that we have built locally in the KSA, on our stands during the conference. We will sign several major Memorandum of Understandings (MOUs) with a whole host of government officials and businesses from across Saudi Arabia. The government officials that I have been engaged with from the KSA have shown a real interest to use our intellectual property from a technology perspective to help them 'leapfrog' to get them to where they want to go quicker in terms of their Vision 2030 ambitions and goals," said Di Filippo.
Di Filippo was unequivocal when he declared the key message that he wanted to deliver on behalf of Lenovo was they wanted to help enable the country achieve its goals in a 'sustainable' way.
"It's fair to say that there is so much going on in Saudi Arabia, that it can be difficult to keep up with everything that is happening, such is the speed and scale at which the country is transforming. However, the key message that Lenovo wants to deliver at LEAP, is that what we want to help enable in the country will be sustainable," said Di Filippo.
Di Filippo said the announcements being made at LEAP were 'significant' and that they were making a long-term commitment to the KSA.
"As a Fortune 500 company you can't go into a market and make a 1-year commitment and then pull out, it's just not possible. We want to establish long-term relationships that are fundamentally built on trust. The announcements that we are going to be making at LEAP are going to be significant to our longevity here, and we are very excited at the role we are going to play in Saudi Arabia's transformation," said Di Filippo.
Di Filippo said that there was incredible demand coming out of the KSA – and that the leadership is trying to fast-forward some of their 2030 vision initiative to 2025.
"A perfect example of the phenomenal demand in Saudi Arabia is the fact they are building 37 datacentres, and by 2025, these datacentres should be able to provide 1000MW in capacity. In order to help scale this, an area that we are getting heavily involved in right now is high-performance computing as a service across different industries. When you do high-performance computing as a service it allows you to start to scale with the demand coming from the industries and that's why the KSA are so keen and eager to work with us because they know we have the HPC & infrastructure as a service and we are a market leader globally," said Di Filippo.
Di Filippo conceded that the expectations of the KSA leadership are demanding, but expressed his confidence that Lenovo can facilitate their transformation goals.
"We have 30% of the worldwide Top 500 benchmark for high-performance computing, and we were also recently recognised at SC22 for our efforts in developing Green IT. At Lenovo, we have two concepts, the first one is everything as-a-service and the second concept is asset recovery service (ARS), so we are confident that we can meet the expectations and demands of the KSA leadership and help drive them forward," said Di Filippo.
Di Filippo highlighted Lenovo's journey into the storage industry, and expressed his immense pride at how over a period of six years they had established themselves as the market incumbent in terms of revenue.
"If you look at EMEA from a total addressable market, I think it's fair to say that a lot of people completely underestimated how big the total addressable market was for intelligence data management storage. It's almost the same size as the server market. In EMEA, $29bn is the total addressable market, so you have about $16bn on the server and around $13bn on the storage. When we started this journey six years ago it became very clear to us that we needed to not only focus on the server. We know our servers are the best products on the planet, but we identified that we really wanted to leave a large footprint and acquire market share in the storage industry. It took us six years to get there, and at the end of last year IDC commissioned a report that said Lenovo EMEA is the No.1 player in entry storage in terms of revenue, and that was huge for us," said Di Filippo.
The charismatic Lenovo executive paid tribute to the role played by their channel partners in helping them achieve their goals in the storage space.
"We have said it many times in the past, but we are a channel-first company. The channel was undoubtedly the catalyst to our success on entry storage. We had the right promotions, initiatives and the right go-to market, but more importantly the channel accepted that our products were exceptional and they started to sell it with their own solutions, and that in a nutshell is how we became the No.1 player in the market last quarter. Our objective is to remain in that No.1 position in EMEA, but whilst it's hard to attain the market incumbent position, it's even harder to retain it," said Di Filippo.
Lenovo's commitment to the channel has been well documented, but I was intrigued to know how they rank and evaluate their channel partners to determine which ones are their most valuable.
Di Filippo said that they monitor 'active partners' on a monthly and quarterly basis.
"We have 15,000 partners across the EMEA region, and 5-6,000 of those are located in the Middle East & Africa region – and what we do on a monthly and quarterly basis is examine which of these partners have been active. An active partner is someone that does at least one, or more transactions in a month, or a quarter. We look at how many of these active partners are trading with us on a transaction, and what sort of transaction is it? Is it server, storage, software, or services? We are keen to understand what kind of reselling partners we have, are they pure transactional partners, are they solutions partners, services partners or system integrators? We have partner profiles that we can clearly see, and we use that information to build our dashboards, and it quickly becomes evident which channel partners are really performing for us," said Di Filippo.
Lenovo are enjoying huge success, but there is an old adage that says if it's not broken then don't fix it.
However, in the fast-paced world of technology and IT, it appears that companies constantly have to reinvent the wheel to stay competitive, so what is the secret to Lenovo's success and how does Di Filippo plan to keep them on top?
"When I joined Lenovo over three years ago, I built a concept called 7×7. What that essentially means is seven priorities delivering seven initiatives in a bid to outperform the markets and drive new growth. However, your strategy does always need to evolve and be fluid, if I look at my very first 7×7 initiatives compared to my most recent one, there are changes. In terms of talent recruitment and sales enablement very little has changed. However, one area where I have made changes is in relation to our investment in ISVs (International/Independent Software Providers). We want ISVs to understand that our core competency is to produce the best platform on the planet. My mission is to ensure that the ISVs are using our platform for their total solutions because as I said we have the best platform in the world," concluded Di Filippo.