Medcare Women and Children hospital has introduced an advanced technology for the detection and treatment of cancerous and non-cancerous breast tumours and lesions in the Middle East.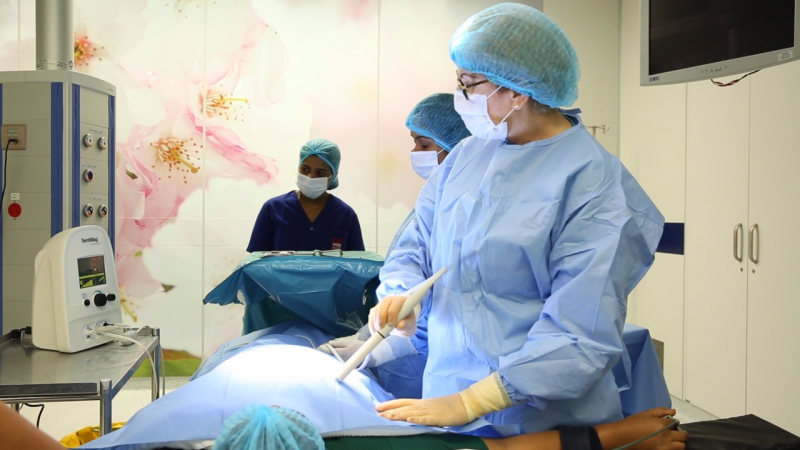 The precision, offered by the Magseed system, will enable a safer, faster and more comfortable patient experience. 
The increased awareness about breast cancer and mammographic screening has led to more frequent detection of breast lesions (tissue which has suffered damage through injury or disease) and lumps. In many cases, a lesion is not easily visible or detectable for targeted treatment. Therefore, the key to successful management of these non- detectable lesions is having an accurate location of the damaged or diseased tissue.
Magseed is said to be "a minimally invasive medical technology" used to accurately guide surgeons during breast cancer or tumour removal. It offers a simpler, more effective alternative to current treatment options.
The technology involves the injection of a magnetic seed inside the breast lesion. During the surgery for removal of the lump or lesion, the presence of the seed is revealed by a probe that can feel the variation of magnetic waves and guide the surgeon exactly where the breast lesion or lump exists.
"Magseed is an excellent technique, offering a valid alternative solution for patients, without the safety and regulatory concerns associated with radioactive exposure or complications associated with traditional wire systems," said Dr. Simonetta Monti, Specialist Breast Surgeon at Medcare Women and Children Hospital. "Magseed is smaller than a grain of rice and is easier to deploy and locate. The clarity of imaging provided by the system enables confident and efficient placement of the seed within the breast lesion, and ease of location during surgery. A magnetic probe detects the Magseed, guiding the surgeon to the tumor with precision. As a result, this technique can be performed rapidly, allowing more patients to benefit from treatment."