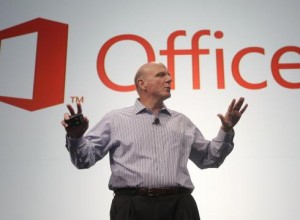 Microsoft CEO Steve Ballmer today announced the launch of the company's latest Office suite of applications – with a large emphasis on cloud, social and collaboration.
During a media event in San Francisco, Ballmer showed off the new suite, which is designed heavily to suit the upcoming Windows 8, as well as to embrace the world of touch tablets.
Ballmer dubbed the new Office as "the most ambitious release of Microsoft Office that we've ever done" and "the most vibrant and exciting new release of Office in years."
He frequently referred to it as "modern Office" and "Office as a service", with a big emphasis on its cloud capabilities.
"This is a new generation of Office where Office is a service first. We'll continue to make Office available as an application in traditional ways, but it's the first round of Office that's been designed from the get-go for Office to be a service. Your modern Office thinks cloud first," Ballmer said.
"You can just click and start running Office immediately from the service. Office uses the cloud to remember what you were doing, where you were, what your preferences and favourites are, your documents and how you're working together with other people to collaborate on those things. We need to support that for people in their individual lives and private lives, in addition to supporting enterprises in their business personas," he added.
Microsoft's recent acquisition of Yammer was also attributed as a core basis of the new suite's focus on social integration and collaboration.
"We've made social a first class part of modern Office. One of the things that is certainly true is the way people work today is dramatically different to the way people worked when I started at Microsoft. One of the things we did that was big and to differentiate ourselves in 1980 was to give everybody a private office. I think that's a great concept but it's not a uniform concept and people today work in much more social and collaborative ways," Ballmer said.
"You see that reflected in this wave of Office. The embrace of Skype, the ability to work on projects and collaborate together. We need to let individuals in an organisation band together and then work together where appropriate under the administrative control of the enterprise," he added.
With the Microsoft Surface set to go directly up against the iPad the big question on everybody's mind was whether the new Office will be offered on the iPad, or indeed other tablet operating devices.
Whilst Microsoft deciding not to let users download the new Office on iPad could shift more of its own tablets, it would also mean sacrificing sales in a market that Apple dominates.
However, Microsoft refrained from answering this vital question, or indeed the exact release date of the product.
Despite this, Ballmer spoke with a lot of excitement about the new Office, Windows 8 and Microsoft Surface. He slated 2012 as one of Microsoft's most important years ever.
"It is an amazing time to be at Microsoft. The Windows 8 launch is right around the corner with availability coming in October. In a sense, it feels a lot to us like 1995. While individually I think the new Office and Windows 8 are quite remarkable, together I think they're quite magical. In this case we took the extra step," Ballmer said.
"We said we need a piece of hardware that really shows off this uncompromised experience between work and play, and so with the Microsoft Surface and the full range of Office productivity available on that device, and on the full range of Windows 8 devices from our partners, I think you almost go beyond magical to something that is just incredibly exciting," he added.
A preview of the new Office suite is now available on the Microsoft website.
Ben Rossi is reporting for Computer News Middle East live from San Francisco. You can see tweets from the event at www.twitter.com/computernewsme.