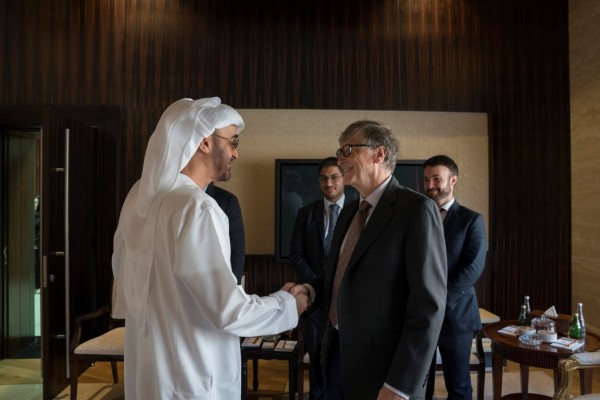 His Highness Sheikh Mohamed bin Zayed Al Nahyan, Crown Prince of Abu Dhabi and Deputy Supreme Commander of the UAE Armed Forces, yesterday hosted Microsoft co-founder Bill Gates, also co-chair of the Bill and Melinda Gates Foundation.
Gates is in the capital to attend the international health forum, 'Reaching the Last Mile – Mobilising Together to Eliminate Infectious Disease', which begun on Wednesday.
During the meeting, the parties exchanged views on a number of issues of common concern, particularly in the humanitarian field, coordination of efforts in the areas of relief and development in underprivileged countries and peoples.
They also discussed the two sides' efforts in promoting healthcare, disease control and prevention, and the important proposals and programmes to be implemented, which will help reduce the spread of diseases.
The meeting was attended by Khaldoon Khalifa Al Mubarak, Chairman of Abu Dhabi Executive Affairs Authority, and Mohamed Mubarak Al Mazrouei, the Undersecretary of the Crown Prince Court of Abu Dhabi.
Earlier this week, Gates was in Saudi Arabia, speaking at the MiSK Global Forum in Riyadh, where he met with the country's Crown Prince Mohammed bin Salman.
The pair discussed aspects of cooperation between the Salman bin Abdulaziz Philanthropic Foundation (MiSK) and the Bill and Melinda Gates Foundation at the Forum.
They also discussed opportunities around $500 billion project NEOM.
They went on to announce the MiSK Grand Challenges initiative, which aims to recognise ideas and projects that can "positively transform" the world.
It will invite innovators from around the world to create new ideas and projects that tackle some of the biggest problems facing humanity today including education, poverty and climate change. It is backed by grants totalling $10 million from the two foundations.
Over the next three years, a series of MiSK Grand Challenges will be announced addressing education and global citizenship.
Gates also spoke about the benefits of technological advancements such as artificial intelligence.
The Microsoft founder shared optimistic views about AI technologies, highlighting that its benefits outweigh any potential pitfalls. "We are in a world of shortage, but these advances will help us take on all of the top problems," he said.
Gates highlighted that ultimately AI will alter the labour environment in developed countries and will be instrumental in helping elderly people or address class sizes in schools. "As we free labour up from things like manufacturing, we can shift it to some of these very human-centric needs," he said.