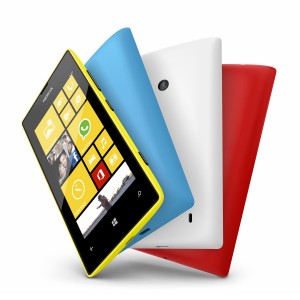 Nokia today unveiled a new range of smartphones at Mobile World Congress in Barcelona and announced plans to extend the innovations to more markets.
First up was the Nokia Lumia 720, which delivers a high end camera performance at a mid-range price point, the company said. A large f/1.9 aperture and exclusive Carl Zeiss optics are designed to deliver bright and clear pictures, while the phone also boasts a HD-quality wide-angle front-facing camera.
It comes in five colours, with an estimated starting price of EUR 249 before taxes and subsidies. Rollout is planned to start in Hong Kong, Vietnam and Singapore in Q1 2013, before continuing into broader markets in Q2, including China as well as key markets in Europe, Asia, Africa and India.
The Nokia Lumia 520 is Nokia's most affordable Windows Phone 8 smartphone, whilst still delivering experiences normally only found in high-end smartphones, such as the same digital camera lenses found on the flagship Nokia Lumia 920. A four-inch "super sensitive" touchscreen makes for a more responsive and immersive content experience than can usually be found at this price, Nokia said.
The 520 comes also in five colours, with an estimated starting price of EUR 139, before taxes and subsidies. Rollout is planned to begin in Q1 2013 in Hong Kong and Vietnam, before expanding broadly in Q2 to markets in Europe, Asia – including China and India – Latin America and Africa.
The Nokia 105 is the company's most affordable phone to date. Featuring a bright colour screen with clear menus and up to 35-day battery life, it is available in black and cyan for a recommended price of EUR 15. It is planned to start rolling out in Q1 2013 and is expected to be gradually expanded to China, Egypt, India, Indonesia, Nigeria, Russia, Vietnam and other markets in Africa, the Middle East, Asia-Pacific and Europe.
Finally, the colourful Nokia 301 boasts a fast 3.5G Internet connection and Nokia Xpress Browser preloaded for up to 90 percent more data efficiency. It is the most affordable Nokia device to offer video streaming and also comes with new smart camera features, inspired by the digital camera lenses on the Nokia Lumia smartphones.
The 301 is available in cyan, black, magenta, yellow and white for a recommended price of EUR 65. It is planned to start rolling out in Q2 2013 and is expected to be available in more than 120 countries in Africa, Asia-Pacific, Europe, India, the Middle East and Latin America.
"The momentum behind Nokia is gathering pace," said Stephen Elop, President and CEO, Nokia. "The launches today reflect our commitment to broadening our devices and services portfolio to meet the demands of people and businesses around the globe.
"By offering better experiences at a more affordable price we are reinventing the battle for affordable mobile devices, and Nokia has the building blocks to win."
Nokia also announced that with more than 130 000 applications now available on Windows Phone, it is opening up its APIs in imaging, location and music to encourage developers to build unique and innovative application experiences for Lumia.
It added that, along with Microsoft, it is sharpening its focus on bringing business customers from competitor platforms to Windows Phone using the combined strength of Windows Phone 8 and Nokia Lumia smartphones.
CNME Editor Ben Rossi is reporting live from Mobile World Congress. Follow updates at www.twitter.com/computernewsme and #MWC13.