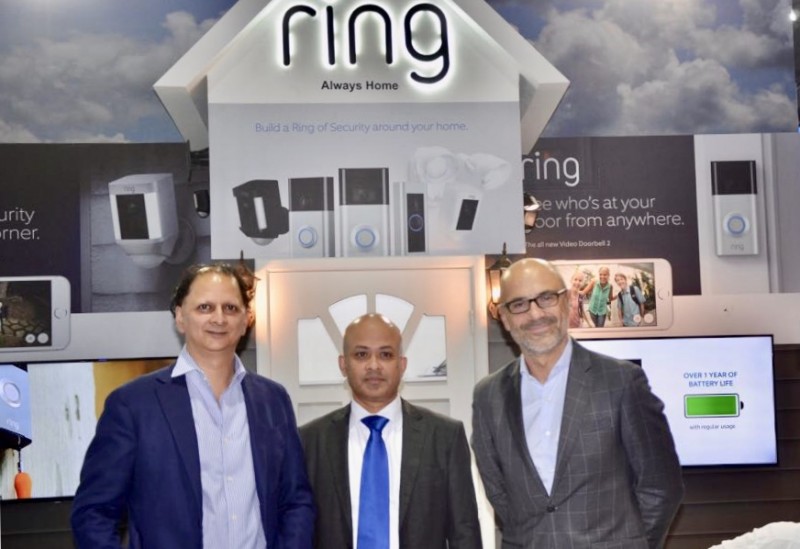 Ring has partnered with X-cite by Alghanim Electronics, Kuwait's largest electronic retailer, to distribute Ring's security devices. This partnership will help the vendor expand its reach across the Kuwait market, offering neighbors innovative security products and services, said the firm.
Mohammad Meraj Hoda, vice president, Business Development, Ring said, "Ring's mission to reduce crime in neighborhoods drives every decision we make. By offering affordable, easy-to-use, and effective devices and services that can not only help solve crime but prevent it from ever happening, Ring is changing neighborhood security as we know it today. We're looking forward expanding to Kuwait and look forward to making a positive impact on neighborhood crime."
According to Hoda, X-cite by Alghanim Electronics has been providing technology-driven business solutions in Kuwait controlling more than 70 percent of the market share when it comes to consumer electronics distribution, and home security products and solutions are a natural extension to their product offering.
"Ring is looking forward to working with X-cite by Alghanim Electronics to address neighborhood and home security needs by extending our product offerings through internet service providers, online retailers, system integrators, Internet service providers and brick and motor channels where they have very strong relationship."
Fernando Vicente Lopez, vice president, Electronics, Alghanim Industries, said, "Under the Kuwait 2035 vision there are huge opportunities for the housing sector to grow and develop and we believe that the Internet of Things is set to disrupt the way we live. Homes are going to get 'smart' with connected products offering endless possibilities to make our lives easier, more convenient, and more comfortable. The awareness and demand for smart entry devices, such as smart doorbells that keep families, neighborhoods and communities safe are growing and therefore we believe that our partnership with Ring is a perfect fit. We see exciting new possibilities in this partnership with Ring across the country and it will help X-cite by Alghanim Electronics to better address our customer's needs in today's environment of ever-increasing demand for neighborhood and home security solutions."
As the value-added distributor in Kuwait, X-cite by Alghanim Electronics will promote Ring's latest suite of home security products such as the Ring Video Doorbell, Ring Video Doorbell Pro, Ring Video Doorbell Elite, Ring Floodlight Cam and the Ring Spotlight Cam and conduct channel engagement, training and activation programs for partners. X-cite by Alghanim Electronics will also set up go-to-market strategies with key retail partners and provide the needed infrastructure for micro-channel to engage with the Ring brand.