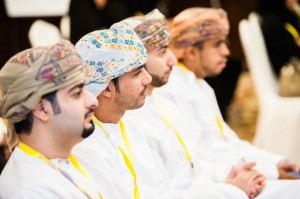 SAP has partnered with Oman's Information Technology Authority (ITA) in order to boost its Mawared graduate training programme in the sultanate.
The tie-in with the ITA came as the software vendor called on government entities and the private sector to offer more support for the programme.
Currently, the Oman-based Mawared programme is educating 20 Omani graduates, who were selected from a pool of 300 applicants. SAP said that a further 20 students are set to join in the fourth quarter of 2013.
The programme aims to provide students with essential business, IT and leadership skills. Training includes hands-on project experience, negotiation, conflict management and "design thinking". The programme also offers SAP certifications to associate level in core business and industry solutions.
The software vendor said that the likes of Petroleum Development Oman and Oman Oil Refineries and Petroleum Industries Company have already benefitted from Mawared, though it wants to see more support from bodies such as the ITA.
"The collaboration with ITA is a welcome boost to the Mawared programme, and will markedly enhance our ability to produce graduates that can genuinely make a difference across multiple industries," said Gergi Abboud, Managing Director, SAP Gulf.
Marita Mitschein, Senior Vice President of Strategic Investments, SAP AG, said that, though the ITA collaboration was good news, the plan was to make the Mawared programme sustainable.
"Mawared has everything in place to succeed, and we now look forward to the next step, where it runs as a sustainable model, funded by government entities and private sector companies keen to gain access to top talent that cannot be found anywhere else," she said.
For its part, the ITA said it was "proud" to be working with SAP on Mawared. Dr Salim Sultan Al Ruzaiqi, CEO of the body, said that IT played a critical part in Oman's 2020 economic vision, and that collaborating with SAP would help the sultanate's talent to receive good training.
"SAP, with its global track record for capacity building and business innovation, is an ideal ally in our mission to unlock the potential of graduates, and put them on the path to attain influential, industry- and economy-shaping leadership positions," he said.
Mawared is a part of SAP's plan to certify more than 2,000 new consultants in the Middle East by 2015. The vendor says the scheme is in direct response to a skills gap in the market and a lack of opportunities for young graduates.