iboss, the leading SASE cloud security provider, will be showcasing at GITEX 2021. iboss addresses today's challenge of securing network connectivity from any device to any application, while users work from anywhere. As companies of all sizes consider a long-term remote or hybrid work model, traditional on-premises network security solutions are simply no longer capable of ensuring users are both safe and productive.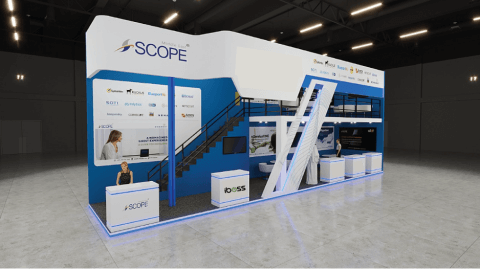 iboss will be exhibiting alongside its UAE based regional value-added distributor SCOPE Middle East at Hall 1 – H1-23, the SASE leader will demonstrate how its proprietary containerised architecture, designed 100% for the cloud, efficiently and easily moves network security to the cloud, providing organisations and their employees fast and secure access to public and private applications. iboss' best-in-class platform allows users to quickly and securely access any cloud applications they need, such as Microsoft 365, Zoom, DropBox and more.
"The 'work from anywhere model' is here to stay", said Paul Martini, CEO of iboss. "As employees continue to leverage cloud-based productivity apps, organisations need to follow suit with their network security and ensure their workforces have secure, fast and reliable internet connections".
Expert Insights, the premier resource for organisations around the world to research and compare cybersecurity solutions, recently named iboss a winner in the Fall Best-Of Cybersecurity Awards. iboss was recognised as a top provider in the Best-Of Web Security award category. 'Best-Of' winners have been hand selected by Expert Insights' editorial team and highly experienced technical experts, highlighting the most innovative and powerful solutions currently on the market and giving them the recognition that they deserve. Awards are based on a number of factors—including product features, ease of use, market presence, and customer satisfaction scores.
About iboss:
iboss is a cloud security company that enables the modern workforce to connect securely and directly to all applications from wherever they work. Built on a containerised cloud architecture, iboss delivers security capabilities such as SWG, malware defense, RBI, CASB and data loss prevention to all connections via the cloud, instantaneously and at scale. This eliminates the need for traditional network security appliances, such as VPNs, firewalls and web gateway proxies, which are ineffective at protecting a cloud-first and mobile world. Leveraging a purpose-built cloud architecture backed by 230+ issued and pending patents and more than 100 points of presence globally, iboss processes over 150 billion transactions daily, blocking 4 billion threats per day. More than 4,000 global enterprises trust the iboss Cloud Platform to support their modern workforces, including a large number of Fortune 50 companies. To learn more, visit our website.
About SCOPE Middle East:
SCOPE Middle East is an award winning specialty value-added distributor (VAD) in Middle East, Turkey and Africa (META) region specialising on innovative and best of breed Cyber Security, Networking Performance, Mobility and Cloud Solutions. SCOPE Middle East aims at creating value through demand generation, access to markets and efficiency.
Come meet iboss experts at GITEX 2021. Book a meeting here.