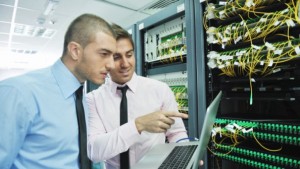 IT professionals have plenty of reasons to be thankful these days: rising budgets, salaries and job tenures among them. But when it comes to IT management and spending priorities, they often don't see eye-to-eye with their organisations.
These are among the findings from the 2013 SIM IT Trends Study, which is based on surveys of 650 CIOs and other senior IT leaders at nearly 500 organisations with median annual revenue of half a billion dollars. Survey results were revealed Monday in Boston at the Society for Information Management annual conference by Leon Kappelman, and other members of the research team. Kappelman is lead researcher, professor of information systems and director emeritus of the Information Systems Research Center for the College of Business at the University of North Texas.
Despite the economy's struggles in recent years, IT "appears fairly resilient and generally seen as 'part of the solution' during these challenging times," the survey team concludes.
The findings include:
The average IT employee salary rose from 2012 to 2013, according to 89% of respondents, and is projected to increase in 2014 according to 90% of respondents.
The number of internal full-time IT employees rose or remained flat from 2012 to 2013, according to 72% of respondents, and 82% said the number will increase or stay the same from 2013 to 2014.  Increasingly, those employees are being deployed in hybrid IT organisations that are less centralised, and rely more on a federated approach in which IT people are sprinkled in among end users – an approach that can improve customer service and snuff out troublesome rogue IT efforts, according to Kappelman.
IT budgets stayed the same or rose from 2012 to 2013, according to 73% of respondents, and we can expect increases or no change from 2013 to 2014, said 77% of respondents.
However, there are some concerning trends, too, for IT leaders.
For example, while security accounts for the 14th largest IT investment at organisations, it is the second biggest worry for IT leaders.
Furthermore, disaster recovery is the 11th largest IT investment area but the third biggest concern for IT leaders, and BYOD is No.21 on the investment list, but No.5 on the concerns list.
Kappelman called these findings "eye opening," and deepened his appreciation for the complexity of IT leadership.
"They want to optimise IT but also want to help optimise the business, and sometimes those things are in conflict," he says. While the results initially troubled Kappelman, upon speaking to IT people and further reflecting, he believes it is natural for the IT leader's viewpoint to differ from that of the organisation in that "IT is an indirect contributor to most corporate objectives – in other words, we don't directly increase revenue or market share, though we do all these things indirectly by doing great IT."
And it's not as if IT leaders and their organisations are completely at odds. Analytics/business intelligence is the top IT investment and also the top concern among IT leaders. Alignment of IT and business is the No.1 management concern among organizations and IT leaders alike.
IT leaders and organisations both seem to be on board as well with cloud computing, which four out of five organizations surveyed said they use, and more than a quarter of IT services delivered are cloud-based. Kappelman said cloud adoption is just "good economics" and allows organisations to focus most on what they value doing.
Originally published on
Network World (US)
.
Click here to read the original story.
Reprinted with permission from
IDG.net
. Story copyright 2023 International Data Group. All rights reserved.