Toyota and Panasonic have announced an agreement to begin studying the feasibility of a joint automotive prismatic battery business, as Toyota ramps up battery development to help meet its goal for green cars to comprise half of global sales by 2030.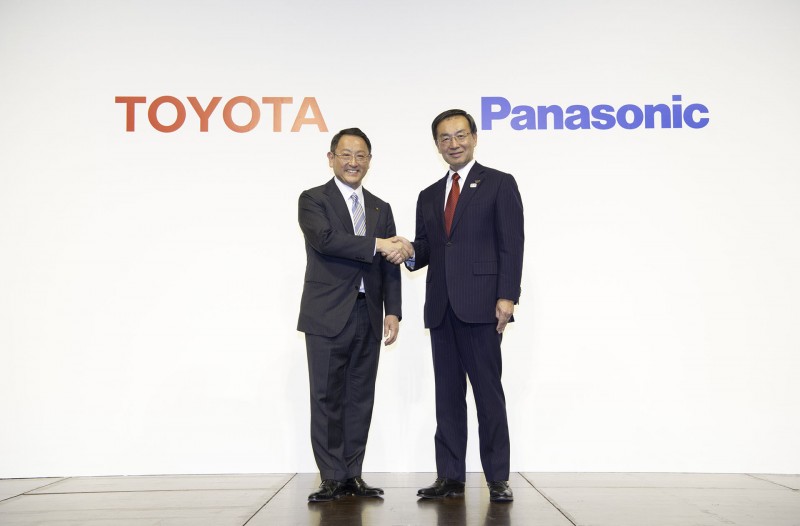 The joint announcement on Wednesday builds on an existing agreement under which Panasonic – a global market leader for automotive lithium-ion batteries – makes batteries for Toyota's petrol-electric and plug-in hybrid vehicles.
Toyota's battery needs are likely to increase after it said last year it would add fully electric vehicles to its product line-up in the early 2020s, expanding a green-car strategy which has focused on plug-in hybrid and fuel-cell vehicles (FCV).
"The auto industry faces many hurdles to developing next-generation batteries which are difficult for automakers or battery makers to tackle on their own," said Toyota President Akio Toyoda at a joint news conference.
Toyoda said the automaker's annual sales target for petrol-electric and plug-in hybrids is 4.5 million vehicles by 2030, and 1.0 million units for EVs and FCVs.
"It would be difficult for us to meet our 2030 goals given the current pace of battery development. That's why we're looking to Panasonic and other companies to help us develop ever-better cars and batteries."
Since Toyota and Panasonic began their business relationship in 1953, the two companies have been challenging each other with the goal of mutual improvement, particularly in honing their manufacturing capabilities. With the business environment undergoing drastic change, both companies have realised the importance of collaborating with trusted partners and looking past conventional boundaries to contribute to the world through creating new value.
To that end, Toyota in September formed an EV technology venture with peer Mazda and supplier Denso. The venture reflects a trend of automakers and components makers partnering to develop the next-generation cars, to reduce research, development and manufacturing costs.
In Panasonic, Toyota is partnering the main battery supplier Tesla. According to Nomura Research, Panasonic is the world's biggest supplier of batteries for plug-in hybrids and EVs, with a 29 percent market share.