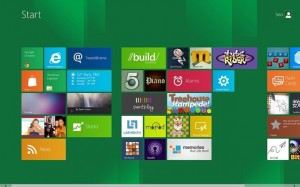 Windows 8, the most significant upgrade to Microsoft's operating system since Windows 95 and one of the most important products in the company's history, will not achieve enough adoption in enterprises to be considered a standard, according to Forrester Research.
By the time the next major Windows upgrade is released, Windows 8 will be in less than 50 percent of workplace PCs, unable to overtake its predecessor Windows 7.
"I have to believe Microsoft expected better enterprise adoption for Windows 8," said Forrester analyst David Johnson, the lead author of the report "IT Will Skip Windows 8 As The Enterprise Standard," released Thursday.
As it is, most enterprises have either recently migrated from Windows XP to Windows 7, or are in the process of doing so. In a Forrester survey of European and North American enterprises and SMBs conducted in last year's third quarter, Windows 7 was on almost half of respondents' PCs and Windows XP had a 38 percent share. Respondents further said that they forecast having Windows 7 on 60 percent of their PCs a year later, and Windows 8 on 26 percent.
Factors affecting enterprises' interest in and adoption of Windows 8 are varied, according to Johnson. IT pros aren't generally convinced that Windows 8 offers their companies a marked improvement over Windows 7, which has proven to be a solid, stable OS.
In fact, many IT departments are concerned about some elements of Windows 8, such as its radically redesigned user interface – based on tile icons and optimised for touch screens – and how much of a learning curve it will represent for their end users.
There is also skepticism over how that so-called "Modern UI" interacts with the more traditional one that is also included with the new OS for running Windows 7 applications. "There isn't a truly seamless experience between the two interfaces," Johnson said.
Another concern are the cost and effort involved in upgrading desktop OSes across an enterprise, a process that causes "migration fatigue" and makes companies unlikely to embark on shortly after finishing it.
With Windows 8, Microsoft is hoping to improve Windows' weak presence in tablet devices, but iPads and, to a lesser extent, Android tablets remain the preferred options.
Windows RT, the Windows 8 version designed for ARM-based devices, has also hurt OS adoption in the enterprise for several reasons, such as its inability to run Windows 7 and XP applications and its limited IT control capabilities.
Microsoft officials said recently that an update, called Windows 8.1, will be released as a preview in late June and in final form before the end of the year, but they haven't provided any details about what will be new or changed in terms of features and functionality. They have only suggested that the Start button and menu might be restored.
Thus, it's hard to tell if Windows 8.1 will be compelling enough to change the adoption plans of enterprises, but even if it doesn't, IT departments need to be ready to deploy Windows 8, according to Johnson.
Those roll-outs may be limited to special sets of users or scenarios, such as a new fleet of tablet devices, but interest on Windows 8 is high among end users, more so than among IT pros. A Forrester survey in last year's fourth quarter showed that 38 percent of employees would prefer to have Windows 8 on their work PC, while 35 percent expressed a preference for Windows 7. Also of significance was that when asked about their work tablet preference, 26 percent chose the iPad, while 20 percent picked a Windows 8 tablet.
As a result, IT departments need to be ready for the arrival of Windows 8 devices in their enterprises, whether the adoption is led from the top down or whether it's via a BYOD situation in which employees bring their personal Windows 8 tablets to work.
Johnson recommends that IT departments first and foremost accelerate and complete their Windows 7 migrations, because this move from Windows XP will put their enterprises' IT infrastructures in much better shape to accommodate Windows 8 machines.
Also, they should implement a formal BYOD policy and program, because it's likely that Windows 8 devices will begin to appear in their enterprises in this manner. "With Windows 8, you should understand how to support BYOD scenarios and be opportunistic about finding applications for tablets, because they may prove useful in many instances," he said.
Johnson also recommends implementing and expanding application and desktop virtualisation, as well as testing and piloting Windows 8, its applications and its devices with a variety of employees from different departments.