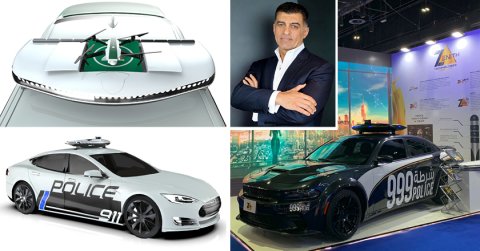 Celebrating 15 years of distinguished engagement with its formidable commitment to the futuristic Dubai Police, Zenith Technologies showcases its latest technological prowess via its disruptor platform- the AI EagleEye Intelligent Patrol at World Police Summit. As a leading provider of Intelligent Security and Big Data, AI Correlated analytics, to Law Enforcement, Homeland Security and Governments across the Middle East, Zenith is honoured to have underwritten a number of remarkable world's FIRST deployments with the forward thinking and reformist Dubai Police, since 2008.
Sponsored by Dubai Police, the second edition of the World Police Summit will be held at the Dubai World Trade Centre from 7th-9th March 2023. The Summit will provide an unparalleled platform to explore the current challenges faced by police forces and the latest technological advancements, strategies and innovations across the law enforcement and security spectrum.
Speaking about their long-term partnering with Dubai Police, Russell Hammad, Founder & CEO of Zenith Technologies, said, "We share Dubai Police's vision and passion for the latest in technological innovations. In fact, identifying the next big thing and disrupter technologies is imprinted into Zenith's psyche". Hammad continued to impress upon the fact that the cornerstone of their affinity with Dubai Police has always been to make Dubai and the UAE autonomously safe and securely sufficient by employing the likes of Zenith's technology suite that is explicit in its real-time data delivery from its numerous city wide deployments, which lends to erase the crippling human error and biases that hinders timely and accurate decision making by police analysts, at times. Zenith has embraced the ethos and innovative mindset of Dubai Police since 2008, who have unequivocally embraced Zenith's disruptive vision in law enforcement. Zenith Technologies has been synonymous with a plethora of the technological advancements by Dubai Police, and we continue to do so by disrupting our own technologies with reiterations of further technology firsts in the Intelligent Patrol Policing. In the UAE, Zenith has had a very longstanding – 15 year – celebrated engagement with Dubai Police, developing and deploying several global-technology firsts over that period".
Zenith's latest innovation the "AI EagleEye Intelligent Patrol technology" is the world's first lightbar-embedded AI drone that relays all information in real-time and helps capture both major crimes, and offenders on road and minor infringements with eagle eye precision. For the most part, the platform embeds innovative technologies, within a Policing Patrol lightbar, leveraging 4 embedded AI cameras that serve to provide real-time streaming of 360 Situation Awareness.
Greater frame rate capture camera technology, jumping from a 25 frame per sec frame rate, from a few years ago, to current AI cameras with 100 frames per sec, has enabled improved benefits. Moreover, Zenith AI city-wide deployments delivers real-time actionable and quantitative data to Police Headquarters for prompt response and that converged real-time intelligence saves lives.
An otherwise benign and neighbourhood friendly Policing Patrol is loaded with advanced technologies that is most concealed within the body of the lightbar in a roaming policing patrol, for it to be only unleashed when an AI Drone takes into the sky at a press of a button. Beaming back 360-degree bird's eye view information leveraging much of Zenith's in-house technologies, such as ANPR with vehicle Make, Model, Colour detection, Face Recognition to speed enforcement and Seat-belt and Phone destruction detections in addition to trainable analytics as Visual Pollution and a number of other bespoke needs, Zenith empowers the policing patrol community, who we turn to in our hour of need.
Amongst its other notable innovations, Zenith MMS (Media Monitoring System) platform has resonated well, underwritten by Zenith's own revolutionary IP that' has been etched in a number of regional deployments at pinnacle levels within governmental deployments. Zenith is currently in the process of reaffirming its footprint in this hi-tech space by redeveloping the MMS platform, under Generative AI processing- utilizing more advanced Natural Language Processing (NLP) algorithms.
Traditional broadcast media (Television and Radio), and the exponentially growing number of online video and audio sources, provide customers with access to a real-time information source for emerging situations and public sentiment and the ability to make video and text archives searchable over any timeline. To deliver actionable intelligence from these sources, Zenith provides fully automated, multi-lingual broadcast media monitoring across hundreds of sources in real-time with real-time transcription and translation of available audio and on-screen text sources in over 30 languages including Arabic.
"Zenith ethos is imprinted with innovation in its R&D NDA. Henceforth, Zenith continues to lead the industry most pronouncedly in executing its clarity of vision that spearheads developments and go-to-market strategy. Motto is Invent Tomorrow Today", said Russell Hammad, Founder & CEO of ZenithTechnologies, signing off.
Here's a video to know more.