Global fixed broadband wireless connectivity firm InfiNet Wireless will highlight its latest innovations for network upgrades that will allow enterprises to enhance speeds, capacities and latencies, all while gaining much-needed control of costs at GITEX Technology Week.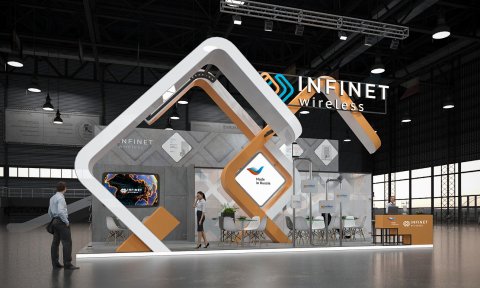 "I think you can now say that the telecoms market has one foot in the 5G era," said Kamal Mokrani, global vice president, InfiNet Wireless. "As a consequence, operators in the region are eager to upgrade their networks to satisfy increasingly demanding subscribers, but they also want to keep costs down while overcoming problems such as spectrum congestion in traditional frequency bands below 6GHz, or spectrum re-farming when their ex-WiMAX spectrum is being taken away."
"At GITEX 2019, InfiNet will be unveiling several brand-new, industry-first mmWave-band solutions that will help telecom and enterprise customers enhance their connectivity speeds and capacities, significantly raise service levels, and stand out from the crowd," said Kamal.
Axion 28 is InfiNet's latest breakthrough in wireless broadband access within the 28 GHz band. The new family of solutions, which will be unveiled at the company's GITEX 2019 stand, is designed for the deployment of high-density multipoint networks that deliver performance up to 1,200 Mbps in the 56 MHz band. Axion 28 allows WISP (Wireless Internet Service Provider) multiservice-networks infrastructure to be built in dense urban landscapes. It lays the groundwork for smart cities, from distributed enterprise networks with as much as 10km between sites, to CCTV and traffic-management systems and networks in remote areas.
Another focal point of the company's participation at GITEX will be the Quanta 70 family of wireless products. This solution represents a new phase in the development of the 71-76 GHz frequency range, enabling wireless systems to deliver performance up to 480 Mbps in the 125 MHz band at distances of up to 5km. The range is characterised by low usage and an absence of licensing. Its use enables the creation of high-density networks with minimal mutual influence of wireless systems.
InfiNet will also use GITEX as an opportunity to showcase several upgrades to its point-to-point (PTP) portfolio, including the second generation of the InfiLINK XG 1000, the company's capacity champion designed for high performance backhaul, and a reduced form-factor Quanta 5, the industry's highest spectral efficiency solution suitable for a diverse range of applications including back-hauling for WiFi, LTE and 4G base stations, transmission of high resolution CCTV and video streams, as well as providing internet access to remote locations.
The company will demonstrate its latest ground-breaking solutions in Zabeel Hall, Z2-F11.