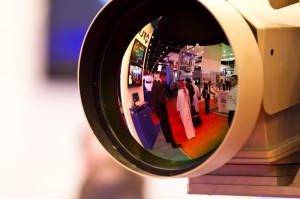 Major players from the world over rolled up at Dubai World Trade Centre in January to witness an Intersec event recorded at an astonishing 10 percent larger than the previous year.
The main themes of Intersec are security, safety and protection, and mega brands such as Sony, Panasonic, Samsung and Schneider turned out to exhibit and showcase their product portfolios as well as meeting with consultants, partners and customers from all over the world.
One keen topic at the event revolved around the evolution of technology intelligence in the security sector, a major market sector here in the Middle East, especially in government entities.
In the past half of a decade IP camera technology has replaced the traditional analogue technology, increasing security capabilities for many companies. The Middle East is a very large market for new technologies in the integrated security sector due to the volume of new projects starting in the region. Specifically in the UAE and KSA, major projects are being undertaken from scratch with large budgets and, following the 'smart city' trend, are embracing expensive technology solutions, including security and CCTV, in order to produce high quality infrastructure for the area.
MBR City, currently under construction, is an example of the scale of some of the projects currently in development which will invest heavily into cutting edge technologies to layer their infrastructures with. This market is being tapped into by global technology solutions giants – many of which were present at the event.
"This is a massive market for us," said Hidenori Taguchi, Head of Marketing, B2B Products and Solutions, Sony Professional Solutions MEA.
"This emerging market is investing heavily in big projects, which is making it a high priority for us."
Sony used the event to announce the release of its regional heat resistant cameras which can withstand temperatures of up to 60 degrees – making them perfect for the summer conditions here in the Middle East.
"This is a totally unique product. The evolution of technology allowed our developers to complete this and now we're bringing it to market. We're happy because we've seen a great deal of interest for the product."
Another major player showcasing at the event was Fortune 500 company Schneider. Schneider Electric is a unique company in the respect that its product portfolio covers a fully completed base of solutions in multiple industry sectors, including software, engineering and construction.
Schneider was running its 10th Intersec show and believes the interest and possibilities in the region are only increasing.
"We're very satisfied with this type of event. The Middle East is a booming market for us in all sectors and technology continues to evolve giving us the opportunity to be successful here," said Anant Berde, VP Buildings Business, Schneider Electric.
"Security is a target gross market for many companies here. Our partners and systems integrators, combined with our physical presence here, give us a great advantage."
Schneider believes its exclusive range of products, added to its well respected after-sales commitment, put it in a good position for the upcoming surge of fresh projects here in the Middle East. New projects and continued projects have begun to grow significantly over the past six months and the opportunity lies for major technology vendors to get in on the action. Schneider believes it can be one of those companies.
"We're a globally successful company, we have a great product range and we have a good presence here in the region. The security game is one which doesn't sit still – it's always evolving and it always needs updating, customers expect that. We strive to provide that."
A major competitor for both Sony and Schneider was the presence of Panasonic, showcasing its intelligent security systems.
Panasonic has developed a number of products which are all run from one central IT system. Using sensor imaging, its camera range doesn't even require monitoring.
"You can digitally input boundaries now. If anything oversteps the boundary then you're notified via the alarm system," said Youssef Maroun, Senior Marketing Manager, System Solutions Department.
"The evolution of technology over the past 10 years has changed this sector completely. Our products aren't about security and monitoring areas anymore – they're about intelligence tracking a grid."
In an area which is filled with possibilities when it comes to deploying major technologies, companies all over the globe are investing heavily in the Middle East.
Intersec, among others, is a major trade show which has raised the attention and profile of Dubai and the UAE in the technology, construction and manufacturing sector.