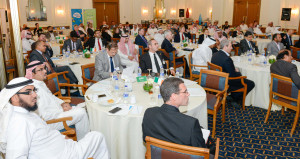 Fondly known as the 'emerald isle', Ireland is the European home  for many technology giants such as Google, Apple, Facebook, IBM and Microsoft, to name a few and is considered to be a major 'technology hub' in the global marketplace.
The export agency of the Irish government responsible for development and growth of Irish enterprises in overseas markets, Enterprise Ireland, held a one-day technology forum in Riyadh last month, providing a platform for Irish and Gulf business communities to network and share best practices.
"There is a lot of room in the market for Irish and Gulf businesses to work more closely together. At Enterprise Ireland, our aim is to bridge the gap between the buyers and the software providers and we are really keen to develop the tech trade corridor between the Gulf and Ireland in an even  stronger way," said Alison Tran, Market Advisor, Software and Services, Enterprise Ireland, Dubai.
High-level representatives from governmental organisations and private sector firms in Saudi Arabia shed light on some major areas of opportunity in the Kingdom's software and ICT sector through detailed presentations.
The 25 Irish companies, which ranged from security, software to telecom networking firms, were also hosted at a reception at the Irish Embassy in Abu Dhabi, last month, following the event in KSA. Although most of these companies have a regional presence, they are looking to strengthen and develop it further.
One of the participating companies, Copperfasten Technologies is a 15-year old security firm based in Galway, Ireland. It has a sales and support office in Florida, USA and also in Dubai, UAE through a partnership with ABS MENA.  According to its Channel Manager, Eddie Monaghan, the firm sees two types of channel opportunities in the Middle East.
"We see that organisations are starting to look at IT Security as an essential element in enabling their business to grow securely rather than merely being an option. We believe that a substantial opportunity exists in helping resellers introduce our products to their client base. Both SpamTitan, our award-winning mail filtering solution and WebTitan, our feature-rich webfilter, offer advanced security solutions that are both easy to use and easy to deploy.  We offer full local technical assistance to all of our partners in both Arabic and English to help them deploy free product evaluations to prospective clients.  By working closely with our channel partners we believe that we can help them uncover some lucrative opportunities," Monaghan explained.
He further said the second channel opportunity in the region is around Managed Services. "As the MSP space grows exponentially on a global scale we are seeing many of our traditional resellers develop their own managed services offerings. A fantastic opportunity also exists in this area for larger ISP's and Telcos to add additional revenue streams. In many cases we enter into partnership and revenue sharing agreements with MSP partners.  These type of agreements usually come with very low capex costs for the partner. We also offer a flexible licensing model that enables our service provider partners to scale up progressively. We have enjoyed a lot of success in this arena in the USA and we are confident that similar opportunities exist in the Middle East," he added. The company plans to increase its head count in Dubai, together with ABS MENA, as its channel partner network continues to grow.
"We are very interested in talking with both resellers and Managed Services Providers throughout the region. We offer a comprehensive channel programme that includes deal registration, fully supported free product evaluations, local technical and sales assistance and of course generous margins and attractive income opportunities."
Another security firm, Netfort Technologies, which is known for manufacturing deep-packet inspection software for monitoring, troubleshooting and reporting on network and user activity, also aims to further strengthen its brand with regional partners and potential customers.
John Brosnan, Managing Director, Netfort Technologies, said, "We are looking to sign agreements with partners who operate in the security space and leverage the Netfort integrations with other well-known products such as Solarwinds, McAfee ESM and Splunk. We also want to ensure organisations of all sizes always have a visibility into network activity, usage of key resources and what users are actually doing."
The Middle East region is still a relatively untapped market, when looked at from a global perspective. And Irish technology companies are building on their success in the traditional markets of Europe and North America to enter the Middle East and win contracts with government organisations, banks, telecoms, airlines and large commercial companies throughout the Gulf. Regional channel partners and service providers have a vast opportunity in building a profitable business by leveraging on the expertise of these companies.
Some of the Irish companies that were showcased last month include: