Reseller ME sits down with the recently appointed Managing Director of Exclusive Networks ME, Nathan Clements to learn more about company developments and plans for the year.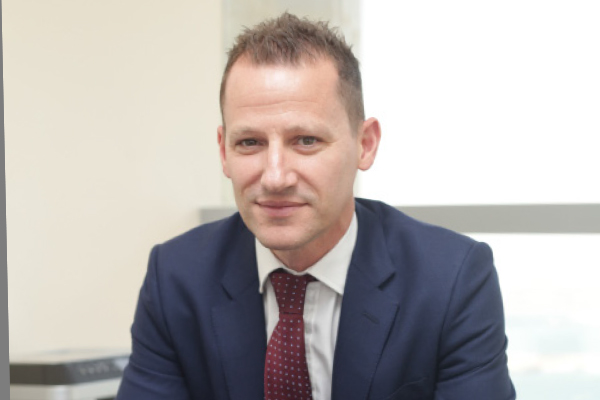 The value-added security distributor, Exclusive Networks has spent the whole of 2015 consolidating its business and focusing on organic growth. That will continue to be the focus for the company's recently appointed, Managing Director, Nathan Clements.
He says, "From a Middle East perspective, we achieved our target and grew around 31 percent in 2015. We consider this to be a major milestone for us because we were able to achieve it just through organic growth with our existing vendors."
The distributor did not add any new vendors during 2015 as a result of a conscious decision to stay focused and grow the business with present vendors.
"In my new role, I have joined the company in the beginning of the year and have found an excellent and strong team. We look forward to continuing the growth in 2016," he says.
As the new head of the organisation's Middle East arm, Clements' top priorities have been around maintaining the employees and relationships with its biggest vendors.
"Every single employee is vital to what we do," says Clements. "We also aim to maintain our relationships with our customers. Our first priority has been to continue the success we have seen in the last year into 2016."
The second phase for the company is to develop new relationships with new vendors and new business for its existing vendor portfolio.
"We also need to develop the people that we have and make sure that they remain loyal to us and have an incentive to stay and work here," he adds. "So, we're also focused on honing our employees and developing further relationships with our partners."
In the final phase, the company will be looking to reach out to new resellers to get into new markets. We will see the company going on a hiring spree in terms of partners and employees as it enters its growth phase.
Having a wide reach globally, Clements highlights that the company's strength lies in being able to offer an accelerated platform into the market for brand new vendors and solutions.
"This is in our DNA and is the core strength to our value, which is why new vendors are keen to work with us. Outside of Middle East, Exclusive Networks is now a global business. We operate everywhere other than North America. We can take new vendors and get them into multiple markets simultaneously."
Also, from a partner's perspective, the cost associated with engaging with a new vendor is quite high and usually the returns in the first year are low. Moreover, in terms of investments, it is a risk for the partners. Exclusive Networks claims to mitigate that risk.
"We will make all the required investments in bringing a new vendor to the market and also on the training and support required for it. We will have a demo kit and place an executive on-site, like a pre-sales engineer to go and help generate that opportunity with the partner. We do a lot of risk mitigation for the reseller when you look at the technology. That will be something we will do a lot this year in terms of channel strategy."
In 2016, one of the objectives for the distributor is to look for fresh, innovative and disruptive vendors to add to its portfolio.
"We are also looking at building the momentum on the launch of BigTec," Clements say.
Earlier this year, the company had introduced BigTec, which is a value-added distributor for data centre transformation, providing international market acceleration for new vendor technologies. The company expects BigTec to be its biggest growth driver for 2016.
Clements believes Big Technology is being introduced to the MENA region at the most ideal time.
"This is a place where the volume, velocity and value of data is rising exponentially, generating a complex problem that only greater intelligence – not just greater horsepower – can resolve. Big Technology's bold vision is to enable its partners to address this huge market opportunity and to help enterprises build a new generation of user driven data centres."
The company has seen an unprecedented amount of interest from its partner community for BigTec. The Middle East region is the thirteenth BigTec entity the distributor has launched globally.
He adds, "BigTec addresses technologies such as hyper-convergence, next-generation data centres and the like. As we enter more challenging times and markets, it is really innovation that will prevail. Partners are eager for the innovation we provide."
While in the UK, the company has two separate lines of partners – those who specialise in hardware security and those who focus on data centre and virtualisation; it has observed that traditional security partners in the Middle East are also interested in BigTec.
"This could be because the market is slightly smaller," he explains. "Our existing partner base are finding opportunities where they are interested in BigTec. There are a few new partners coming up with whom we haven't worked with before. For BigTec in the region, currently, it is a good mix of both, our existing partner base along with new ones."
He points out that a completely different set of skills is required for BigTec.
"We are going to focus on market experts. BigTec is in its infancy at the moment, it is about getting what we call BigTec reference architecture out to the market. It is also about end-user generation and identifying opportunities for them.
"We are seeing an equal amount of demand for cybersecurity solutions as we are seeing for BigTec business."
A key challenge for the VAD is ensuring that they maintain its resellers and vendor portfolio. Clements says, "This is and has to be an ongoing process."
The VAD is confident of a strong Q4, and what will add to its growth, besides BigTec, are its plans around services.
"We are looking into those services, which complement rather than compete with our vendors and resellers," he says. "We are seeing a huge growth in professional services and training this year. We have a strong business in this area.
"But we are just scratching the surface. I think there is a huge opportunity in the market to go out and train partners and also around professional services."
Clements urges partners to embrace Exclusive Networks.
"If you think of us as a distribution company and only want to employ our logistics, credit and price advantage solutions, we can give you that and we'll excel at it. However, we encourage partners to maximise their relationships with us because we can add so much more value around marketing and technical services. I believe it is a missed opportunity for partners if they don't maximise our relationship."
Going forward, we will see the company delivering innovation and marketing campaigns through its partners to offer true value-add for customers.