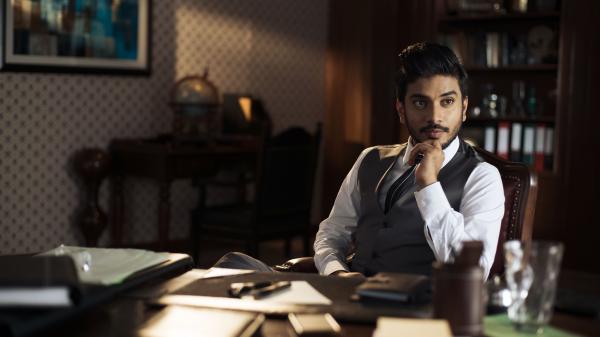 The United Arab Emirates is surely a place close to Keshav Bansal's heart. In turn, a nation with the one of the world's highest smartphone penetrations, and a large South Asian population who adore cricket, is sure to have some affection and admiration towards the 26-year-old owner of smartphone and IT accessory firm Intex Technologies, also the owner of Indian Premier League side Gujarat Lions.
Founded in 1996, Intex Technologies currently has over 11,000 employees, and annual revenues of $928 million, while the Gujarat Lions joined the IPL in 2016 as replacements for Chennai Super Kings and Rajasthan Royals, who were both suspended for two seasons due to alleged illegal betting by their respective owners.
Young entrepreneur Bansal has high hopes for both his businesses, and firmly believes they will be mutually beneficial to one another. "I implement my learnings from Intex in the management of Gujarat Lions," he says. "We believe that the Indian Premier League is a masterstroke strategy that will further help the Intex brand become a household name and further cement our connection with the youth population. It really is a success story in the making, with last year's positive track record as evidence."
Bansal has equally high ambitions for Intex to make its mark in the Middle East. "We have outperformed all other players in import shipments and local manufacturing combined," he says. "Dubai is a strong market for us, as my uncle Sanjay Bansal helps in the business. Intex Technologies is looking for a major expansion in increasing its footprint abroad and is exploring the Middle East market to export products."
As well as his own business interests in technology, Bansal is also an advocate of increased technology adoption in sport. He believes that the right policies and tools can serve to delivering fairer results on the field, and greater insight off it. "Technology in cricket has come a long way, and there are many noticeable benefits that have come to the fore via this enviable combination," he says. "Sport is now monitored, results analysed in fractions of a second and future strategies determined on the basis of technology through the use of key data." He also believes the commoditisation of certain technology makes competition itself more interesting. "It creates a level playing field, as technology now gives access to all investors to fairly assess performance and plan game situations for forward-looking execution," he says.
Major political developments in India meanwhile, have had a disruptive influence on the country's technology industry. On 8th November 2016, the Indian government, in an attempt to nullify the country's black markets, took the measure of demonetising all 500 and 1,000 rupee notes across the country. While the long-term effects of the change remain to be seen, the move has already caused economic chaos and even the deaths of dozens of people who queued for banks.
Bansal concedes that the changes did cause upheaval for the device business in the short term. "The initial period of demonetisation did lead to a country-wide dip in mobile handsets sales – especially for smartphones, since most feature phones and budget smartphones are purchased in cash," he says. "Now that consumers are better acquainted with digital payments and e-transactions, the fall in smartphones sales has started to recover and is seeing an uptick."
Over 90 percent of Intex's portfolio are now 4G-Volte smartphones, and the firm is set to enter the enter the $150-$250 smartphone segment from this quarter. This, as well as improving market conditions, give Bansal reason to be optimistic. "The industry trend in 2017 promises to be an upward and cheerful one," he says. "The good news is that close to 70 percent of the mobile market in India remains untapped, giving enough space to all Indian and international mobile brands to position themselves. Mobile handset manufacturing was estimated to be an $8 billion industry in 2016-17 and is expected to grow to $15 billion this fiscal year."
Following the Indian government's decision to remove the notes from the market, digital payment apps saw growth of over 150 percent, and Bansal believes that this is prompting a shift from device manufacturers. "Handset players are now preparing to introduce 4G-VoLTE feature phones that will enable a digital drive in rural India where features phones still rule," he says.  "This cashless drive has fuelled the demand for our products, as people are openly adopting mobile banking and digital payment services as well as telcos' apps, UPI and unstructured supplementary service data. Moreover, there has been no de-growth in the feature phone market in the country and with 4G coming into play, feature phones will further strengthen by moving towards smart feature phones, in even the smallest of Indian cities."
He adds that the government's decision is also serving to boost its own technological ambitions. "The industry has also become the right platform in driving the government's major initiatives – Make in India, Digital India and Skill India," he says. "These employ over 40,000 people across across the country, and this is no small feat for one industry alone."
Meanwhile, Intex is also looking to diversify its business in the consumer electronics space, having recently expanded its air conditioner business, alongside its LED TVs portfolio. "We will have a renewed focus on expanding our consumer durables portfolio," he says. "Foraying into air conditioners was the next natural step to complete our bouquet of offerings, after introducing a plethora of products like direct-cooling refrigerators, smart LED TVs, fully-auto washing machines and air purifiers."