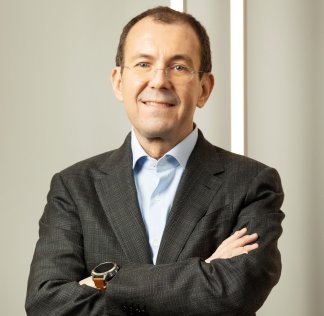 Luca Rossi, Executive Vice President and President, Intelligent Devices Group, Lenovo sat down with Daniel Shepherd, Deputy Editor, tahawultech.com to discuss Lenovo's market growth, product anniversaries and the future.
Could you tell our readers how current trends like hybrid work collaboration have affected Lenovo's presence in the PC market?
We are seeing a permanent transformation in the market in relation to pandemic events. Digital transformation, hybrid working, digital life, we believe these are trends that are unstoppable.
Now the question is, how will the world recalibrate post pandemic and what will the hybrid end state be? For tech companies this digital transformation was accelerated by the pandemic significantly, however we still believe that we are living in the early days of digital transformation.
The simple effect on us is that we have sold more computers, the PC market has gone from 265 million to 355 million. We've tried to capture this growth and have thus expanded our leadership significantly resulting in the last quarter being one of our highest market shares globally.
If you go beyond this, you'll discover that the customers are looking for more premium devices with advanced audio and visual capabilities. For example, pre-covid nobody cared about the front-facing camera on a laptop and now there's been a huge R&D engineering focus on how to make this camera better. Obviously, there are examples of software experiencing similar advancements such a Zoom and Microsoft Teams.
In addition to our PC advancements, we have also launched several standalone smart devices meant to improve team collaboration. There are countless tech avenues that have been accelerated by the pandemic by 5-10 years ahead of their previously estimated development.
Lenovo often prides itself on innovation, with that in mind, can you tell us more about the launch of the X1 Fold PC?
The X1 Fold PC belongs within the larger ThinkPad family and after 30 years of innovation we are launching the next-gen ThinkPad X1 Fold. We are the leading PC player with fold technology, and we were able to incorporate a lot of customer feedback from the original model generation 1.
Customers want a small device with a big screen, it is 12 inches when closed but transforms into 16.3 inches when opened. Customers also wanted more power, now in the next generation there are no compromises in the performance, and it also includes a 5G option. Customers desired something very portable but also with a full-sized keyboard option which can be included with this latest model.
Overall, the X1 Fold is the concentration of the finest technology, portability and battery life that makes no sacrifices. This is still clearly a premium device for a very specific user, but one that many of our customers have identified with.
Lenovo's ThinkPad is fast approaching its 30th Anniversary, what do you have in mind to commemorate such a momentous event?
The ThinkPad was born in 1992 and quickly became the standard for professional notebooks, some will even consider it the classic business notebook. We are very strict in maintaining the highest quality, military standard resistance and the legendary keyboard.
These things are unchanged, meanwhile innovation continues to drive the product and its siblings like the ThinkPad Z13/Z16 with a completely new design tailored for a new generation of users. ThinkPad will surpass 200 million sales in October 2022 as we celebrate its 30th birthday. It took 22 years for ThinkPad to sell 100 million units. The 100 millionth was called Eve. will have taken just 8 years for the second 100 million to sell, which speaks volumes to the popularity of the device.
Can you explain to our readers how Lenovo has transitioned into a tech powerhouse; we understand that there is a focus on embedded computing and scenario-based solutions?
Lenovo is comprised of multiple business groups such as Intelligent Devices Group (IDG) which I belong to which focuses on traditional PC development in addition to smart collaboration, AR, VR, international smart phone markets and Metaverse growth. Another group is Infrastructure Solutions Group (ISG) which focuses on elements such as server storage and networking.
The last group we recently launched in 2021 is SSG the solutions and services group. This group tackles many services from notebook repairs to customer's end-to-end solutions based on our infrastructure offerings. Customers are in dire need of someone to help them navigate the data-driven world of new IT. For us being a tech powerhouse means getting competitive with digitalisation, solving customer complexities and using our proprietary solutions.
The Metaverse is of course the hot topic of the day. Can you share Lenovo's stance on it and any plans you feel comfortable sharing with our readers?
Everyone is looking at how the Metaverse will position itself. Will already have a small presence in the professional AR/VR space as opposed to the consumer side of things, which we believe will be one of the doors to the Metaverse.
With SSG we are creating vertical solutions such as smart manufacturing and retail where the combination of those devices and IP can offer the solutions.
The Metaverse today is a bit like the Internet in the early 1990s and everyone is trying to understand what their position in the value chain will be. Our mission is to have a position in the new device and solution value chain with partners in the IT channel.