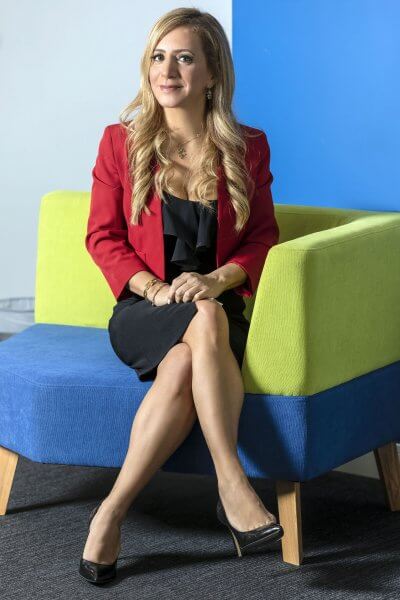 Maya Zakhour, head of distribution and alliances, Middle East and Africa, NetApp, urges channel partners to optimise the opportunities that the firm offers as a data leader.
Today data is at the heart of most business decisions. Increasingly enterprises understand how they can leverage the power of data to enhance their daily operations and grow their business. However, in order to be able to extract actionable insights, customers need to first have adequate data management solutions in place. Hybrid cloud data services and data management company NetApp is enabling customers to modernise their data centres to today's digital demands through its partner-led business in the region.
According to Maya Zakhour, head of distribution and alliances, Middle East and Africa, NetApp, the priority at the firm is to communicate to its partner and customer ecosystem how it has evolved from a storage vendor to become an authority on data.
She says, "We are doing this by having a clear vision that revolves around three main pillars – modernising the data centre, offering hybrid cloud architecture and providing cloud data services."
Tasked with growing NetApp's partner base and leading the firm's distribution strategy, Zakhour joined over a year ago and has made the three pillars her raison d'être.
"We are strengthening our offerings for our partners and customers. With the first pillar, which is about modernising the data centre, we are empowering them to see how they can connect their data centre and storage to cloud."
NetApp's ONTAP software unifies data management across flask, disk and cloud to simplify a customer's storage environment.
"ONTAP is the foundation of the three pillars. It gives NetApp the strength of being not only a hardware storage provider but also a software one. We are creating a strong operating system that will help customers to be connected to the cloud."
The second pillar hybrid cloud architecture is where the company brings the architecture of the public cloud in a hybrid cloud format that can be on the customers' premises. This is through converged and hyperconverged offerings. Zakhour says that the firm boasts strong alliances in the converged segment along with an extensive product portfolio. She urges partners to take advantage of the company's end-to-end offerings.
"It is important for partners to be acquainted with all our solutions and learn our success stories. Only then will they be able to put together customised offerings to help customers address their challenges. They will also be able to scale-up and do more business with NetApp."
NetApp's third pillar, cloud data services, is realigning the company's DNA and reshaping its future. The firm has created strong alliances with global leaders such as AWS, Google, Microsoft and the like, to offer cloud data services, whether from the edge or the core. It allows customers the flexibility and freedom on how they want to drive their data between clouds.
"The data fabric is integrated into all the layers of our offerings," she adds.
Speaking about the channel strategy, Zakhour says reaching out to the firm's existing partners and recruiting new ones who will be able to scale up with the firm on each pillar takes precedence over anything else. The company has also invested in resources to help manage and reach out to its growing network of partners.
Post recruiting new partners, the next priority for NetApp is to enable its entire partner ecosystem.
"We have a detailed enablement path through our partner programme, Unified Partner Programme. We are driving many activities through our partners from a marketing as well as creating a differentiation perspective. This is not only from a solution providers point of view but also through exposure through partners.
"We are enabling partners from every angle, right from training to marketing. NetApp is known for many effective initiatives such as call-out days and other campaigns. We always try to bring the fun quotient along with the pitch. We also have incentive programmes, which touches on the third aspect of our channel strategy – partner profitability."
Zakhour explains that the company goes above and beyond to help partners understand how "we can be together in the partnership."
She further emphasises that the company does not touch the upfront margins in any of the incentive programmes that it has for each of its main pillars.
"Once partners secure an opportunity, we work in an ethical approach that is structured and straight forward. We have deal registrations in place. If we don't follow this ethical approach, then we can be checked by the company internally.
"We ensure not to squeeze our partners' margins. Instead, through the incentive structures, programmes and our support, they have ample opportunities to make significant profits."
NetApp partners also stand to make an additional 20-30 percent margins if they are able to convert a customer from competition's offerings, which is known as 'Run to NetApp' programme; introduce net new accounts to the firm; sell converged or hyperconverged offerings and finally enable themselves by undertaking the right certifications for attaining converged or hybrid cloud offering skillsets.
"Also," Maya adds, "increasing renewals per year is another avenue to earn more incentives."
From a distribution point of view, some partners are directly managed by NetApp while others work with the firm's distributors.
"The strategy for distribution is to make them as part of our team and award them accountable roles and responsibilities with the partners they manage. We also give rebates based on this criterion. For every opportunity that the distributor brings and helps partners to develop it, they receive extra rebates.
"Even within our distribution strategy, similar to our partner one, the enablement pillar is crucial. We also drive many fun activities for our distributors."
According to Zakhour, 2019 is the 'channel year' for NetApp. She says that despite having all the pillars in place, robust offerings, strong messaging, programmes and tools, "perhaps the company did not take it to market as effectively as we could have in 2018."
"Today, we promise our partners that all our initiatives and tools will not only be shared but we are going to do everything in our power to truly help them benefit from it. We will be having stronger channel structure to support more partners," she says.
2019 is also the year of investments for NetApp. "We will be strengthening our presence in Abu Dhabi soon. We already have new offices in Saudi and a much bigger team. This gives the confidence to our partners that NetApp is becoming stronger and we will do everything to support them."
Zakhour's message to partners is, "Don't think of NetApp as a storage company but instead view it as a data authority vendor."