CNME Editor Mark Forker, secured an exclusive interview with Vivek Gupta, Director Technical at Sigma Technologies, to find out how the company helped its customers to evolve their IT infrastructure to meet changing market dynamics – and some of the key accomplishments it has made during its partnership with Cisco.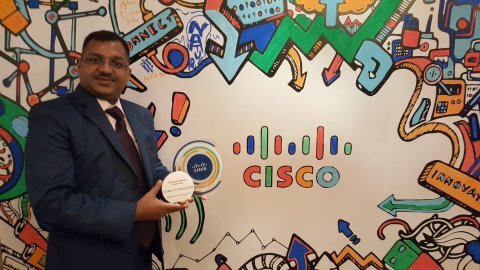 The on-going pandemic has pushed organisations across the region to evolve their IT infrastructure. Can you explain how Sigma as a key Cisco Partner is working to support the end users in the region?
The dramatic spread of COVID-19 has disrupted lives, livelihoods, communities and businesses worldwide. The social and economic challenges posed by COVID-19 have highlighted the importance of understanding the strengths and weakness of the business in order to maintain continuity and resiliency.
At Sigma technologies, we have been assisting our customers by designing and deploying networking solutions that help secure our customer's remote workforce and provide a trusted workplace experience using the Cisco intent-based networking portfolio.
We have been offering Cisco Cloud and Compute solutions to our customers to help bring people and applications closer together securely and cost-effectively. We have been helping our customers adopt Cisco solutions to build a secure network for a trusted workplace as well as for work-from-home solutions.
What are some of the key milestones including trainings & certifications that Sigma has achieved as a Cisco Partner over the years?
We at Sigma Technologies have made sure all our technical and sales resources are well trained in terms of the latest Cisco technologies by attending Cisco technical training sessions and achieving the relevant certifications.
Maintaining a deep technical understanding of Cisco architectures as well as developing sales competency and confidence is a key priority for us. This has enabled us to have richer interactions with our customers and helped us lead them into the next era of digital transformation.
Some of our key certifications include Cisco Advanced Specialisation in Security, Enterprise Networking and Collaboration as well as SaaS certification.
As a result of the disruptions to businesses, especially at the start of the pandemic, we have seen that more and more organisations have become aware of the importance of having business resiliency. What are the Cisco solutions that an end customer should adopt in order to maintain business continuity and resilience?
At Sigma Technologies we have been following a proactive approach in helping our customers preserve business continuity and build enterprise resiliency.
We have been communicating with relevant business stakeholders to put a solution in place that can help to reshape their business and secure the ongoing engagement with customers, employees, suppliers and regulatory authorities.
We understand that once the COVID-19 outbreak is controlled, companies will want to review and renew business continuity plans. If there are deficiencies, companies will want to identify root causes, whether it's timeliness of action, lack of infrastructure, labor shortages, or external environment issues.
Companies will then want to consider putting new internal guidelines in place based on lessons learnt, as well as further solidify their existing contingency plans.
We at Sigma Technologies are geared up to assist our customers throughout this entire process and we propose to them to leverage scalable solutions offered by Cisco such as Cisco Collaboration platforms which have become inherent to business operations as well as Cisco Secure Remote Worker Solutions which protect their workforce everywhere and guarantee business resiliency.