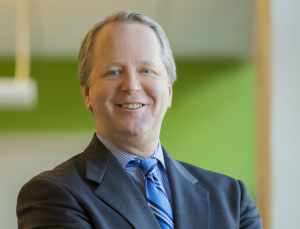 Richard McLeod, global VP, Enterprise Software Channels, BlackBerry, explains how regional channel partners can thrive in the cloud-driven economy.
There is no stopping the continuous rise of the cloud economy. Analysts worldwide predicted that cloud computing services will increase annually by 25 percent and in a span of just four years – from 2013 to 2017 – spending on this segment has touched $107 billion.
According to industry projections, the Middle East and Africa region will have the world's highest cloud traffic growth rate of 41 percent by 2019.
Seeing the huge potential that the cloud market presents, resellers and channel players must bank on their key strengths and value add services to ensure they stay appealing to their client base.
The entire channel landscape has evolved from selling and installing physical products by ICT channels to cloud computing services.
This trend and growing demand has also given rise to customers favouring software and cloud services over a hands-on environment wherein ICT channel partners are always on standby to manage onsite configuration changes, inspection, maintenance and updates.
Customers today can easily go directly to the vendor's website to
get the products they are looking
and maintenance can be carried out remotely without the need to even pick up the phone.
Today, one of the biggest challenges for IT solutions providers and value- added resellers entering the cloud economy is not simply to adapt and maintain revenue models, but how to remain relevant within a sales channel that has fundamentally shifted, with customers empowered to take far more control of their approach to ICT than ever before.
They are increasingly likely to be sidelined if they cannot justify why
a customer can benefit from their partnership as customers can easily bypass them by going directly to the download source for their software needs.
So, what can solution providers and resellers do to fight back and maintain their position as a valued partner to their customer base?
The key for the channel industry to continue to thrive in the cloud economy is specialised services. While jack-of- all-trades resellers may have had an advantage before, today, a focused area where resellers have genuine strength
is a must. Solutions providers with their technical expertise must be coupled with time and money investment to ensure that their teams are fully up- to-speed with their offerings and the impact these technologies have on customers. By knowing the technical aspects of their offerings, they will be able to develop sustainable relationships with their clients.
Successfully carving out a niche in a crowded channel industry can ensure that a lifecycle is developed around the products offered.
Companies should also take the opportunity to get ahead of the cloud economy by providing large-scale cloud services such as Software-as-a-Service (SaaS), Infrastructure-as-a-Service (IaaS), Platform-as-a-Service (PaaS) and Business-process-as-a-Service (BaaS).
At the same time, solutions providers or value-added resellers in the cloud economy can advance their competitive attributes by playing a more holistic customer-facing role – from making recommendations or generating product awareness, billing aggregation including offering speed and cost savings, to delivering a wider range
of professional and support services. Every reseller needs to create agile and responsive customer service designed from a customer-centric perspective.
Another approach for solutions providers and value-added resellers to stay successful is to seek accreditation from key vendors. This could create
a streamlined support system, higher level and easier access to functionality, and increased control over direct
IT solutions. After all, in the cloud economy, many of the software vendor's customers rely upon existing only in a virtual capacity. Such vendor accreditations, aside from a huge bonus in the eyes of customers, also strengthen customer relationships.
Lastly, raising security credentials across software, hardware, device, sensors or other endpoints connected to the Internet, is another option for solutions providers and value-added resellers to stand out from their competitors.
The Enterprise of Things era means that the network of intelligent connections and endpoints within 
the enterprise enable products to move from sketch to scale. The channel industry should not only understand security issues but also address wider security concerns and proactively recommend solutions
that correspond to new vulnerability points within the customers' corporate network and infrastructure. This is a golden opportunity for the channel
to recommend additional value-add services in security, authentication and cloud deployment.
Currently, there are different strategies implemented by the channel industry with large solution providers offering generic network security solutions while boutique players provide customised and mobility/security-centric solutions.
As customers continue to become increasingly agile and fully immerse themselves in the cloud economy
and embrace enterprise mobility, the channel industry must evolve and adapt their business strategies so that they complement the needs of the cloud economy. This will ensure that solution providers and value-added resellers fully capitalise on the onset of the cloud economy, support their customers' digital transformation as well as embrace the many
 new opportunities afforded by the Enterprise of Things.