Jayant Paleti, Co-founder at Darwinbox explains to CNME Editor Mark Forker how they have become one of the fastest growing HR tech platforms in Asia, its plans to scale its operations in the Middle East, and how they took inspiration from Charles Darwin's famous theory to develop a brand that is resilient enough to survive the shark infested waters of the corporate world.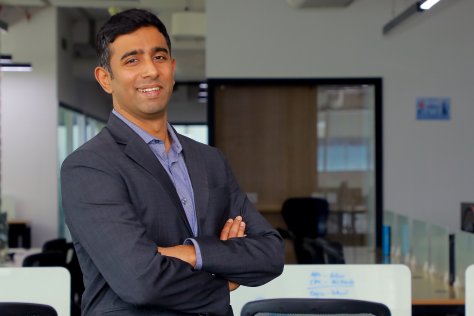 Darwinbox has enjoyed phenomenal success in Asia and has positioned itself as the leading HR tech platform in that market. However, can you please give our readers a broader understanding of the products and solutions that you provide for your customers and how that drives better employee experiences within those organisations?
When we started our journey, we realised that there was a clear gap in what Asian enterprises needed and what was available to them. Asian enterprises are complex in unique ways – one size does not fit all.
For example, multiple business models can thrive under the same entity, organisations may have more heterogeneity in tech adoption, decision making, and approval flows can be complex. We built our web and mobile apps to seamlessly accommodate these process complexities.
Darwinbox, therefore, offers a high degree of configurability that puts the power in HR's hands and empowers them to enable agility in operations. In fact, Darwinbox's adaptive frameworks and highly configurable workflows empower HR teams across 650+ enterprises by enabling them to configure or modify processes along with evolving needs of the organisation without any coding required.
We also build for the end-user.
Inspiring change is hard, and we sought to productise change management with an employee adoption first approach to building Darwinbox. This enabled us to innovate on usability and build functionality like voicebot for HR that enables self-service with simple voice commands, facial recognition-based touchless attendance, and several other features that have proven critical to managing the post-pandemic workplace.
Furthermore, the mobile-first platform combines the intuitiveness and user experience of daily apps with the deep functionality of enterprise-grade solutions, thus simplifying HR for employees. Mobile features such as OTP-based logins for field forces, WhatsApp push notifications, and more have helped us ensure unparalleled adoption rates in comparison to other legacy applications.
Our extraordinary focus on customer success stems makes us the best partner for any enterprise on their Digital HR transformation journey. Be it enabling faster time to value so you can see quicker results or productising change management, we are constantly optimising to ensure our customers can maximise ROI.
We have found that our learning from building for Asian enterprises translates to those in the Middle East as well and have already begun seeing early results in the region.
In your recent press release that documented your latest round of funding and investment, you say that your technology platform caters to ALL the needs within the public and private sector in relation to the entire employee lifecycle, so does that mean you can empower companies to simplify the onboarding process of an employee, and likewise when an employee leaves a company, does your platform enable companies to be able to effectively decommission access from that employee that protects their sensitive data?
Darwinbox is one of Asia's fastest growing HR tech platforms that solve an organisation's HR needs across the entire employee lifecycle including recruitment, onboarding, core transactions (leaves, attendance, directory), payroll, travel and expenses, employee engagement, performance management, rewards & recognition, and people analytics.
With Darwinbox's onboarding module, organisations can offer their new hires a seamless, personalised digital onboarding experience from day 0. From digital offer letters, smart forms, ability to configure custom fields according to the employee's location, to automated workflows – the onboarding module simplifies the onboarding process and gives new hires a delightful and seamless experience.
Similarly, our robust workflows engine can be used to configure necessary separation workflows that are both in line with the company's needs as well as the local privacy laws of the region.
Following your latest funding round, you have now reached Unicorn status, and the company is now valued at $1bn, which only serves to illustrate further the incredible success you have enjoyed since your inception in 2015. However, what do you think it is about your technology offering that has really resonated with the market?
Darwinbox currently has 650+ global enterprise customers, a third of which have moved away from legacy players such as SAP, Oracle, or Workday, to adopt our agile HCM suite.
This can be attributed to our focus on building highly configurable, user-friendly, and innovative technology capable of preparing enterprises for an ever-changing reality of Work.
The past few years have represented some of the most transformative years in defining the future of work. Organisations all over the world were tested on their ability to respond to and thrive during times of change. Extraordinary focus on enabling workforces to thrive in an uncertain environment, and keeping them happy and productive, no matter where they were, stood out as a priority for every CXO.
Darwinbox is at the heart and center of this movement and enables large enterprises with a mobile-first HCM platform that puts employees squarely at the center while crafting meaningful experiences for them. Darwinbox HCM enables organisations to achieve up to 95% employee adoption on the platform by delivering consumer-grade intuitive experiences to attract, retain, and develop talent.
The agile, intuitive, and robust feature-set enables HR teams to quickly adapt to evolving business needs. Furthermore, the solution was built with a deep understanding of local nuances and is capable of solving the unique needs of organisations in the region.
Can you tell us more about your ambitions and aspirations to scale and expand your presence across the Middle East, particularly in the UAE and Saudi Arabia?
The last year has been nothing short of a dream run for us in the geographies we already operate in. We are currently the 3rd most popular HCM solution in South Asia and growing at 3X in our newer markets. We are super excited about serving MENA enterprises where we expect to grow by 400% this year.
The new funding will supercharge our team's plans by allowing us to accelerate our platform innovation agenda and scale our go-to-market presence in MENA. With our regional office already based in the Dubai International Financial Centre, we aim to invest aggressively and grow our team in the UAE. We will also be staging the opening of our next GCC office in Saudi Arabia soon.
Markets across the Middle East, especially in the UAE and KSA, have some of the world's highest smartphone penetration rates and a growing young population that's tech-savvy. The pandemic was a significant inflection point for Middle Eastern enterprises, with a majority adopting remote and hybrid work practices. We will work closely with companies across the region to deliver a disruptive, modern and intuitive experience to their workforce.
Furthermore, keeping with prioritising our product development for the region, we will be launching the Arabic Darwinbox mobile app specifically tailored for MENA employees later this year.
Darwinbox is a very interesting name, can you tell our readers more about the story behind your decision to name your company Darwinbox?
Charles Darwin's theory on survival of the fittest is something we understood to be true in the corporate world for any enterprise wanting to grow and advance into the future. Darwinbox's vision has been to build technologies that help enterprises evolve and stay ahead of change.
We at Darwinbox, also believe that it is the people in any company who build the future, it is the people who push the boundaries of what is possible and imaginable.
Empowering people to become their best is the biggest competitive advantage any organisation can build. It is this unshakable belief that drives our passion to build Technology for People – Technology that is unbelievably easy to use, is designed for any and every kind and is relentlessly innovating to evolve faster than change. This is the story behind our name – Darwinbox.