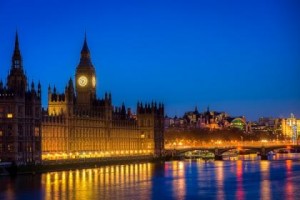 Both BlackBerry and the U.K. government have denied reports that the new BB10 software has been rejected for use in sensitive government communications. 
Tuesday evening, U.K. newspaper The Guardian reported that the new BB10 operating system has been rejected by the UK's Communications-Electronics Security Group (CESG) for use in classified government communications. The paper claims the OS failed some security requirements in the Blackberry Balance software, which is intended to separate work and personal accounts and prevent data copying between the two.
BlackBerry, however, has strongly rejected the report, saying it is "both false and misleading." A company spokesperson said, "BlackBerry has a long-established relationship with CESG and we remain the only mobile solution approved for use at 'Restricted' when configured in accordance with CESG guidelines.
"This level of approval only comes following a process which is rigorous and absolutely necessary given the highly confidential nature of the communications being transmitted. The current re-structuring of this approval process, due to the Government Protective Marking Scheme review and the new CESG Commercial Product Assurance scheme has an impact on the timeline for BlackBerry 10 to receive a similar level of approval," the BlackBerry statement continued.
"We are continuing to work closely with CESG on the approval of BlackBerry 10 and we're confident that BlackBerry 10 will only strengthen our position as the mobile solution of choice for the U.K. government."
A U.K. Government Communications Headquarters spokesperson also clarified the matter.
"We are in ongoing discussions with BlackBerry about the use of BlackBerry 10 in government. We have not yet performed a security evaluation of that platform, but we expect to be issuing Platform Guidance in the summer, this will cover a number of platforms including BlackBerry 10 (and using Balance). We have a strong security partnership with BlackBerry and this gives us confidence that BlackBerry 10 is likely to represent a viable solution for UK Government."
As BlackBerry alluded to in its statement, the older BlackBerry 7.1 OS was cleared for U.K. government use in December 2012 for classifications up to "Restricted"–two levels below "Secret." The BlackBerry Z10 has been on sale in Europe since earlier this year, with good initial sales, but analyst reports suggest the early sales pace has since slowed down.
The BlackBerry Z10 is set to go on sale in U.S. later this week, where BB10 has already received government security clearance in the form of the FIPS 140-2 certification, which allows agencies to deploy devices using the software. The German Procurement Office and Federal Office for Information Security (BSI) has also approved BB10 for official use.