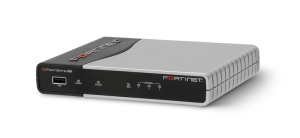 Fortinet has unveiled 12 new products designed to connect and extend its integrated security platforms for retail, branch offices and distributed enterprises. 
Under the umbrella of "Connected UTM," Fortinet's new FortiGate unified threat management appliances, wireless access points, wireless WAN extender, and Ethernet switches provide unparalleled policy and access control, threat protection and business continuity.
Fortinet's new FortiGate/FortiWiFi-30D-POE, FortiGate/FortiWiFi-60D-POE,  FortiGate/FortiWiFi-90D-POE and FortiGate-280D-POE all integrate the full suite of UTM security features plus WiFi access point control, switching, authentication, endpoint management and policy control in a single device.
The Connected UTM platform incorporates the ability to connect and manage multiple devices through integrated Power over Ethernet (PoE) ports.
The FortiAP-221C and FortiAP-320C are new WiFi access points that support the new 802.11ac wireless standard, which offers data rates in excess of 1 Gbps.
For organisations requiring broadband as their primary connection or continuity/fail-over, Fortinet offers the FortiExtender-100B, which acts as a 3G/4G wireless WAN extender for improved relaying of critical data between a service provider and a FortiGate device.
The FortiGate and the FortiExtender devices can be separated by up to 100 metres, allowing the FortiGate to be in a basement or wiring closet and the FortiExtender antenna to be mounted in a different location.
"Fortinet's vision for retailers, branch offices and other massively distributed enterprise environments is Connected UTM," said Alain Penel, Regional vice President for Fortinet in the Middle East. "By integrating the flexibility of Fortinet's UTM appliances, wireless access points, wireless WAN extender and switching products, businesses can simplify their complex networks, improve management and ensure seamless policy enforcement, aggressively pursue new business opportunities, and reduce costs while enjoying all the benefits of high-performance network security."
Fortinet is also introducing two new switching appliances that extend the connected capabilities of the FortiGate platform.
The FortiSwitch-224D-POE is a rack-mount appliance with 24 (10/100/1000) access ports and 12 PoE ports, and the FortiSwitch-108D-POE is a desktop appliance that offers 10 (10/100/1000) access ports and 8 PoE ports.