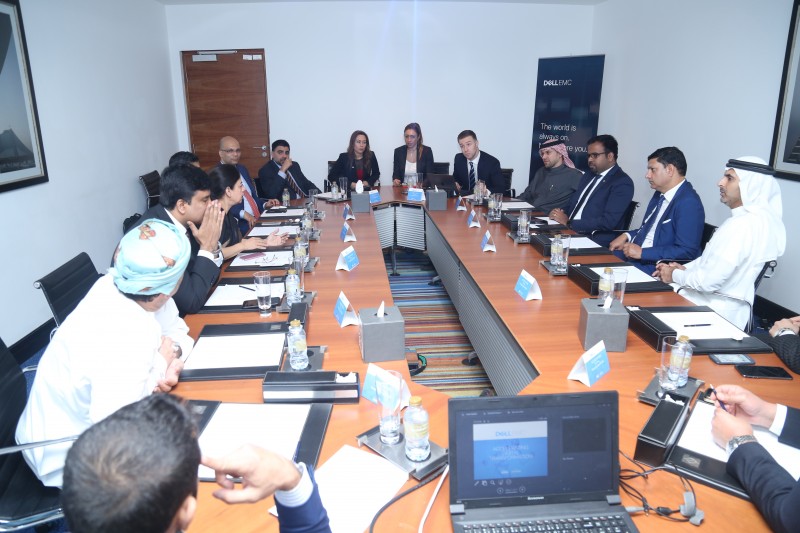 The Middle East's CIO's are in agreement – the direction for digital transformation is becoming increasingly clear in a region whose governments have prioritised technology and innovation.
A collection of technology leaders participated in a roundtable discussion hosted by Tahawul Tech and Dell EMC yesterday, and shared their experiences of how they are attempting to reinvent their firms' existing business models.
CIOs from a range of broad range of industries were present, including banking, logistics, broadcast media, logistics, government and law.
Property developer Deyaar's senior IT manager Faisal Ali highlighted how the firm was reaping the benefits of choosing to opt for the use of virtual reality technology. he said. "Every year, we go to lots of trade shows, and have to take physical building models – which often break – to show prospective customers," he said. "We saw an opportunity to rectify this, and begun working with Microsoft's HoloLens, and that's been a huge success. This kind of use case helps to increase technology adoption across the business."
Ali added that the biggest long-term tech issue he was most conscious was avoiding vendor lock-in. "When we introduce technology, we need to think of our exit strategy," he said.
Aster DM Healthcare's group CIO Mukta Arora displayed disdain at the industry's relative failure to adopt digital services, but showed optimism for the future. "Today, the healthcare industry still deals with patients in the same way as they did 20 years ago – in a clinic," she said. "Nothing is really enabling faster healthcare delivery. We're only beginning to look at tomorrow, and how users can avail healthcare in their offices or homes."
Speaking on behalf of an industry that has been even slower to adopt technological change, DIFC Courts' senior IT manager Arul Jose Vigin said that he is looking to find ways that the body can enhance the courtroom experience. "The legal industry is only just getting started with its transformation," he said. "Small businesses have lots of restrictions, and courts have to adapt in this age to try and reduce them. We're trying to eliminate the time that case participants actually spend in the courtroom through the use of technology."
Tristar's group head of IT Adam Lalani put an interesting spin on the discussion, and said that a balance would have to be struck in future to order to ensure the world is not overshadowed by machines. "Hundreds of years ago, when people lived by candlelight, they had more time," he said. "Nobody can tell me that giving me a smartphone has given me more free time. Technology can invade too much into the essence of being human."
Also speaking at the discussion were DMCC IT director Abdalla Al Ali, Gulftainer IT manager Vinay Sharma, Dubai First IT director Sivakumar Venkatraman, Al Sahraa Group CIO Ahmed Askar, OSN IT director Ronald D'sa, Sharjah Islamic Bank CIO Saleem Ahmed and National Bank of Oman.