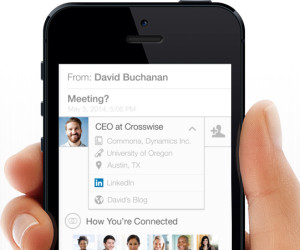 LinkedIn is shutting down Intro, its recently launched mobile service for connecting people over email, after it raised security concerns. 
LinkedIn launched Intro last October, as part of a larger push into becoming a "mobile first" company. The service was made for the iPhone, and was designed to grab LinkedIn profile information and insert it into emails received on phones. The service displayed that information to the recipient from the email's sender if the sender was also on LinkedIn.
Intro was meant to add more professional context to email and draw more users to LinkedIn.
But it quickly sparked questions from security experts, who were concerned about the way the service routed emails through LinkedIn's servers. The security consulting firm Bishop Fox said that the service essentially amounted to a "man-in-the-middle attack," and that it was only a matter of time before someone used it to launch a phishing attack.
LinkedIn, in its Friday announcement of Intro's closure, did not mention security. The decision was about "focus," LinkedIn said. "We are making large, long-term investments on a few big bets, and in order to ensure their success, we need to concentrate on fewer things," wrote Deep Nishar, senior VP of products and user experience.
Intro will be shut down as of 7th March, LinkedIn said. The company did not say what it would be doing with Intro users' email data that it might have stored on its servers.
Upon receiving word of LinkedIn's announcement, Bishop Fox said that it was unlikely that LinkedIn shut down the service for security reasons alone. "Tech products come and go these days and many have short lifespans," said Vincent Liu, a partner at the firm.
"But this app exemplifies why it's important to pay attention to privacy and security when installing features, whether short lived or not, on your mobile devices," he said.
LinkedIn also said it would be shutting down some other services. Slidecast, which let people upload digital presentations with audio, is going away as of 30th April. Support for the LinkedIn iPad app on iOS versions older than 6.0 will also be eliminated as of 18th February, the company said.
Originally published on
IDG News Service (San Francisco Bureau)
.
Click here to read the original story.
Reprinted with permission from
IDG.net
. Story copyright 2018 International Data Group. All rights reserved.