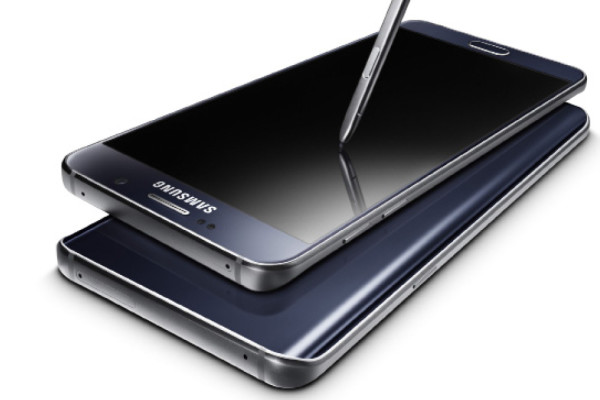 Elegant in design, powerful in performance, it's hard not to desire Samsung's latest launch.
As soon as you get a hold of Samsung's latest launch, you know it's different from its predecessors. The device is designed in a glass and metal body, lending it a premium look and feel. As a customer, you do feel a sense of pride in using the smartphone.
Samsung has come a long way from its first generation of Note to the latest. The Note 5 boasts few interesting features such as being able to write on a locked screen with the new and improved S Pen. The fingerprint lock was long overdue if compared to other smartphones in the same category. The gesture features such as being able to take a screen shot by just swiping the palm across the screen and being able to take selfies by holding up your palm are some aspects the customers can look forward to.
The look and feel of the icons and the general user interface have been enhanced to a great level, which was one of the sore points with customers earlier. Incorporated with a 5.7-inch screen and featuring Super AMOLED touch screen display of 1440 x 2560 resolution with a Corning Gorilla Glass 4, pictures and videos, when viewed, have that clear high-quality feel, which features like these will bring to the table. Some might say the screen is too large and one handed use is not comfortable on this device, which is true to an extent. But it is worth keeping in mind that the phablet is targeted at customers who enjoy working on large screens and have an eye for detail. Single-handed use is not impossible but it's not a risk customers should take, especially since there are chances of the metal body slipping from your hands.
The multi-window or the split-screen option was quite useful, and enabled to stream videos on YouTube while also working on other apps simultaneously.
The rear primary camera of 16MP is capable of shooting bright and clear pictures. And with features such as dual shot capturing and video recording, geo-tagging, touch and auto focus, LED flash, smile and face detection, HDR, optical image and stabilisation and panorama, the user has a plethora of options to play with, in order to get that perfect image. The front facing camera of 5MP is more than sufficient for crisp selfies and video conversations.
Running on Android 5.1.1 Lollipop, the device houses a powerful Exynos 7420 processor and has 4GB RAM. The piece reviewed was of 32 GB, but users also have an option of the 64 GB version. However, even with a large memory bandwidth, there was a slight delay when launching some applications. The battery life was another disappointing aspect, it barely about ran through a day of activities. But on that note, the adaptive fast charging cable that came along with the device was useful and did speed up the charging process.
All in all, it is certainly a great device, one which users will be proud to own and look forward to use on a daily basis. With the price ranging up to AED 2000, it is certainly worth the money invested minus the battery life length and the slight lag in applications.