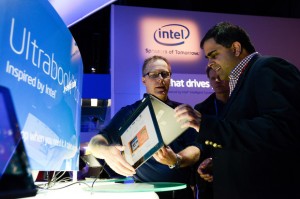 Intel reported a drop in profits and revenue for the first quarter, as the biggest PC market slump in recent memory weighed on its business.
Intel reported a profit of $2.05 billion for the quarter ended March 30, down 25 percent from a year earlier. Revenue was $12.6 billion, Intel said, a drop of 2.5 percent.
About two-thirds of Intel's revenue comes from its PC client group, which makes chips for laptops and desktops. Revenue from that division was down 6 percent year on year, to $8.0 billion.
Its Data Centre Group, which sells server chips and other enterprise hardware, fared better. Quarterly revenue from that division was up 7.5 percent year-over-year, to $2.6 billion.
CEO Paul Otellini put a positive spin on the results. "Amidst market softness, Intel performed well in the first quarter and I'm excited about what lies ahead for the company," he said in a statement.
Worldwide PC shipments dropped 13.9 percent in the first quarter, research firm IDC said last week. That was far worse than the 7.7 percent decline it had originally predicted. Analysts say there is little enthusiasm for Microsoft's new Windows 8 OS, and that people are snapping up tablets instead.
Intel is predicting revenue for its second quarter to be $12.9 billion, plus or minus $500 million.
It's expected to announce new chips based on the Haswell microarchitecture later in the quarter. They'll replace chips based on its Ivy Bridge microarchitecture, which have been shipping for about a year now.
Intel has tried to invigorate the PC market with Ultrabooks, a category of thin and light laptops that can support touch and other tablet-like features. While many Ultrabook models have been released, sales have been slow partly due to high prices.
Intel is still trying to make its presence felt in the fast-growing smartphone and tablet market, which is dominated by ARM. Intel is scheduled to start shipping new smartphone and tablet chips to device makers this quarter, who will start testing them for use in products. The first tablets based on the chips, code-named Bay Trail, are expected to appear late this year.