The UAE Government has launched a global emerging technologies start-up competition, "GovHack Series," in eight major cities around the world.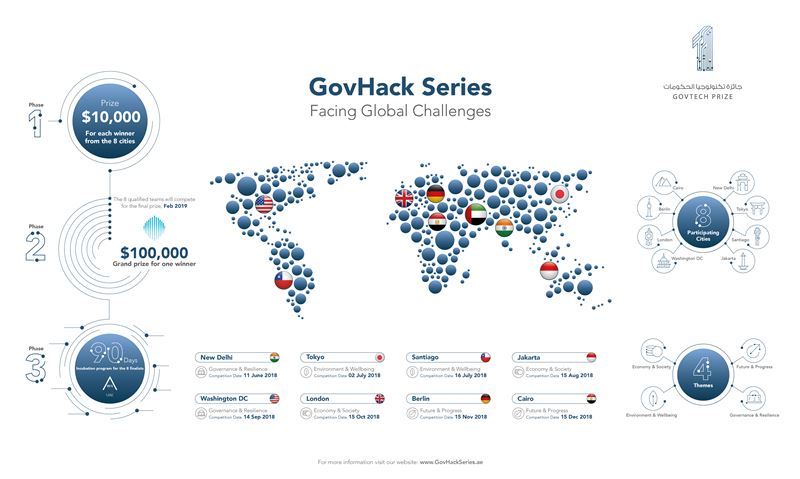 According to WAM, the competition is part of the GovTech Prize, a UAE government initiative that has been running for its sixth year.
The GovHack Series will include events in New Delhi, Tokyo, Santiago, Jakarta, Washington DC, London, Berlin, and Cairo, which will focus on new ideas for government technology and promoting the UAE as a hub for innovation. The series will run from May until December this year.
The competition works throughout the year to search for the best tech government solutions developed by governments and individuals, upon which are awarded at a ceremony during the World Government Summit.
Mohamed Bin Taliah, Assistant Director-General for Government Services Sector, and Assistant Director-General for Corporate Services Sector at the Prime Minister's Office in the Ministry of Cabinet Affairs and the Future, said, "The objective is to motivate young minds, students and government employees from around the world to develop smart government initiatives, and propose technological solutions to address the most pressing global challenges. The Prize also propels the most innovative of these ideas to international stage, presenting them at the World Government Summit."
Start-ups taking part in the competition will be evaluated by a panel of experts, based on criteria such as creativity, impact on society, sustainability, scalability, feasibility, and prospects for commercialisation. Winners from each of the eight cities will be awarded a $10,000 prize, as well as a chance to compete for the $100,000 grand prize at the final event, taking place in Dubai, on the sidelines of the World Government Summit in February 2019.
Winners will also have the opportunity to collaborate with their governments to implement their technological solutions, and will be invited to participate in a 90-day business incubator programme in Dubai's Area 2071.
GovHack Tech Prize, its partner the World Government Summit and its knowledge partner Mckinsey will host a series of roundtable discussions during the competition dates to address the series 4 main themes. The themes covered are divided into four main categories: Governance and Resilience, Environment and Well Being, Economy and Society, and Future and Progress. The GovHack competition will also revolve around these categories.