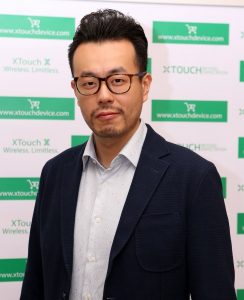 Dubai-headquartered consumer electronics brand XTOUCH has launched its wireless smartphone XTOUCH X and e-commerce solution to raise customer experiences.
The new flagship smartphone is available in full gift and standard package options. The package includes XTOUCH X smartphone, wireless sports earphones and a convenient power bank wireless charger.
The company has also launched an e-commerce platform, which provides special offers, including free shipping and repair service and a first in the mobile category that enables payment in installments to targeted customers and is facilitated directly by the company.
The 5.8-inch FullScreen XTOUCH X is designed and engineered in great detail. The smartphone has a streamlined body and shining finish with 2.8D curved edges, slim bezel and metal frame. The IPS HD+ display screen with 18:9 aspect ratio stretches from top to bottom and completely widens the front vision. The fingerprint button located at the back of the phone enables a quick unlock in only 0.3s.
According to the firm, the ergonomic design of the wireless sports earphones is made for movement, and, uninterrupted Bluetooth streaming provides an unrestricted music experience. The 8MP back camera built-in SONY chipset enables a professional shooting experience and is perfect for various lighting conditions.
The device runs on Android 7.0 OS, and is powered by the MediaTek MT6737T Quad-core chipset, which enhances multimedia, display and photography experience and provides faster 4G network. With 2GB RAM & 16GB ROM that is expandable up to 128GB storage and allows an efficient and enjoyable experience.
"XTOUCH has always been committed to follow our vision to bring in innovation into our business and deliver products of greater value to our target customers. Mobile phones are an essential part of people's daily life and customers are clearly being provided with enhanced smartphone features on a regular basis. We are aware of the constant changing environment and strive to deliver products that are a strong combination of smartphone advantages but at a convenient price point. This is possible as we strategically utilise our innovations in hardware design to ensure that we have our customer's perspective at the forefront," said, Tim Chen, founder and managing director, XTOUCH.
The new launches steer the way for higher growth plans to enable the company to move into the next phase of global market expansion. It is pioneering the way for this expansion with the launch of its e-commerce platform. The easy to navigate website, enables customers to purchase the products online and are assured of free shipping and repairs. And, for the first time ever, targeted customers can avail of an instalment payment scheme offered directly by XTOUCH with payments collected by the company's sales and service representatives.
"e-Commerce is one of the fastest growing business verticals with a multitude of products now available online in the UAE. A contributor to this trend is the logistical support that the country provides. However, there is a huge challenge in payment solution options where data indicates that under 40% of transaction in the UAE are card-based. Likewise, customers also face the backlash of slow after sales service. Riding on this background we have developed an end-to-end ecosystem with our brand owned e-commerce site that eases the payment method as well as ensures quick response time to customer services," Chen added.
XTOUCH X is now available in the UAE in two colour options, Black and White and retails at Carrefour and online from xtouchdevice.com The gift package is priced at AED 819 and the standard package at AED 699 including VAT.