Khalifa University of Science and Technology and Al Yah Satellite Communications Company (Yahsat) have jointly announced that the Yahsat Space Lab has successfully completed the Assembly, Integration and Verification (AIV) of the engineering model of MYSAT-1, the first satellite to be developed at the lab by the students enrolled in the Space Systems and Technology Masters in Engineering Degree at Khalifa University.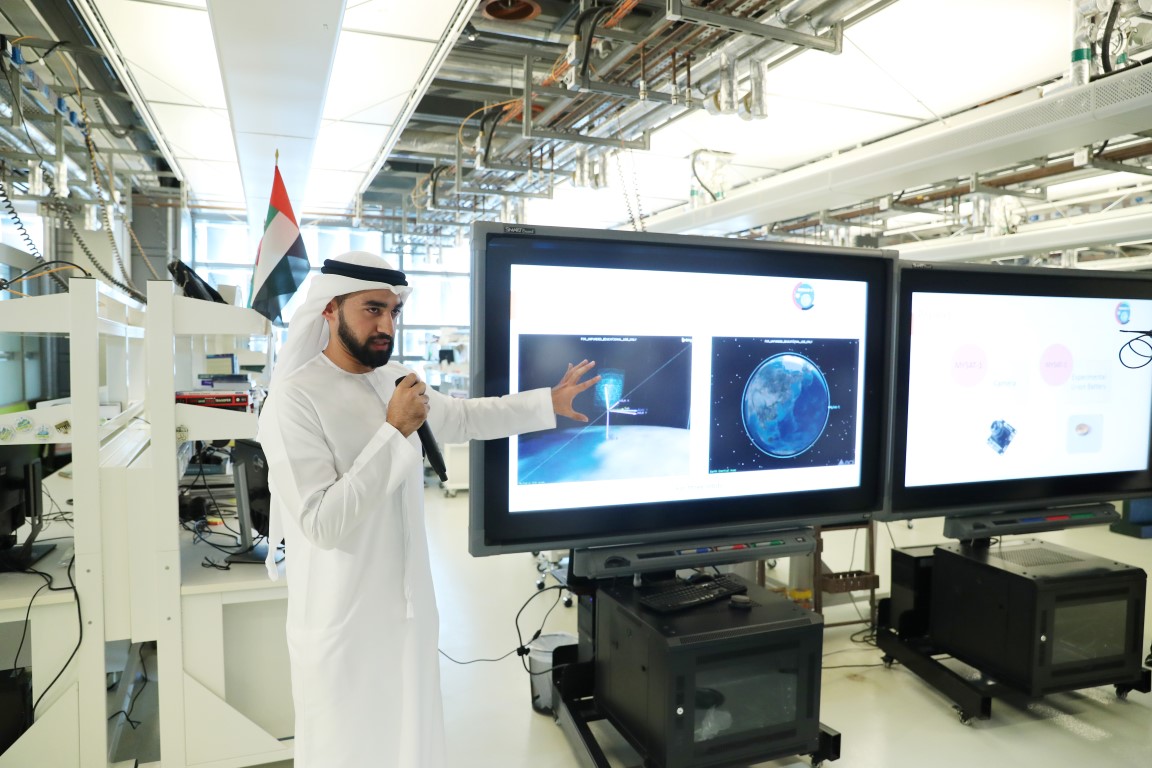 The 'engineering model' of MYSAT-1, an exact replica of the flight satellite model is built and rigorously tested for space environment conditions that envelop the actual conditions in space and launch.
The engineering model and test results were presented to stakeholders at the Yahsat Space Lab in the presence of officials from Yahsat in addition to faculty and students of Khalifa University. The review board declared readiness for the production of the flight model.
MYSAT-1 flight model is scheduled for shipment to Launch Service Provider and NASA in September, in preparation for launch in Q4 2018 from the Mid-Atlantic Regional Spaceport (MARS), on-board Cygnus OA-10 flight to International Space Station.
Primarily an educational mission, MYSAT-1's payload consists of a camera designed to take images of the UAE from space to demonstrate the process of remote sensing. The satellite will also test a novel lithium-ion battery designed and developed at Khalifa University.
Mona Al Muhairi, Chief Human Capital Officer, Yahsat, "We are proud of the students remarkable achievement today, the completion of the MYSAT-1 engineering model marks a significant milestone for the Yahsat Space Lab. Yahsat is a proud contributor towards the UAE space agenda, through empowering national cadet with educational programmes qualifying them to play an active role in further strengthening the UAE's position in the space sector. The achievement today is the fruit of our partnership with Khalifa University and Northrop Grumman to create the regions first Masters in Engineering degree with a focus in Space Systems and Technology "
As part of the Master's Concentration in Space Systems and Technology, students work on related research projects while building small satellites. The Yahsat Space Lab offers Khalifa University students and faculty the facilities required to construct and test miniature satellites "CubeSats".
The high-tech and specialized facilities serve as a platform for future research in space technologies, allowing entities like the UAE Space Agency to work with the faculty on collaborative projects.
Last year, UAE launched its very first Astronaut Programme dedicated to developing advanced sciences in order to empower future generations. The initiative is part of UAE's endeavor to invest in science programmes to help serve national interests in the future, actively participating in global space exploration, and exploring the prospects of human life in space, including the possibility of inhabiting other planets.
For more stories on success and business transformation through technology subscribe to our newsletter. You can also follow us on Twitter and LinkedIn, like us on Facebook to get daily updates on the latest tech news.