Microsoft has joined a host of futurists, technology strategists, start-ups and investors from across the region and around the world, for the inaugural AI Week Middle East.
Endorsed by the Dubai Municipality and supported by the UAE Ministry of Health as Healthcare host partner, the event takes place during 4th and 5th September at the Park Hyatt, and dives deep into the field of artificial intelligence (AI), focusing primarily on the government, healthcare and financial services sectors.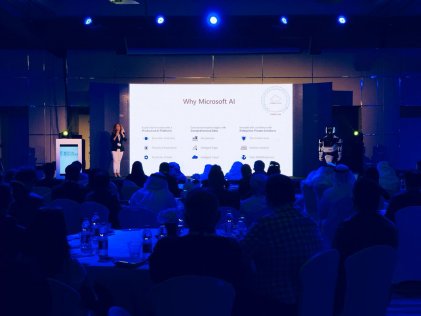 Microsoft serves as Strategic AI Partner for AI Week Middle East 2018, operating a booth in the exhibition area, delivering keynotes and participating in panel discussions.
AI Week's launch coincides with a rapid rise in regionwide adoption rates for AI-based solutions.
The Microsoft survey highlighted that 29 percent of enterprise-scale Gulf businesses said they were investigating AI adoption as a means to accelerate digital transformation within their organisations. Specific smart technologies that were also under consideration by respondents were business intelligence (41 percent), Internet of Things (37 percent), automated workflow (25 percent) and predictive analytics (21 percent). And almost one in seven (14 percent) enterprises regarded robotics and machine automation as priorities.
"AI Week is the perfect platform, both for companies that are new to AI and for those that have solutions already in place," said Necip Ozyucel, Cloud and Enterprise Group Lead, Microsoft Gulf.
"Newcomers get to explore and assess technologies for best-fit and consult with proven industry experts. AI-equipped companies get to review the direction they have taken in the context of other case studies, and consider their next steps. We are now living through the societal tipping-point of the Fourth Industrial Revolution. The choices we make now, as governments, businesses and individuals, will determine our place in the digital future. The intelligent cloud and the intelligent edge form the fulcrum of digital transformation – the ability to engage citizens, patients and customers; the ability to empower employees; the ability to optimise operations; and the ability to reinvigorate entire business models. AI is the natural biproduct of that fulcrum."
At the event, Rima Semaan, Data and AI Technology at Microsoft Gulf, conducted a plenary session at the event to explain Microsoft's overall vision, strategy and ethics framework concerning AI. She addressed the democratisation and operational applications of AI, covering how smart solutions will augment human capabilities in the transformation of industries such as banking, government, retail, aviation, transportation and telecommunications.
Yousef El-Foudeh, Digital Advisor at Microsoft Gulf, delivered a talk on transforming financial services using AI. In addition, Khaled El Shabrawy, Public Sector Cloud Solutions Lead and Account Technology Strategist at Microsoft Gulf, took part in the panel discussion "How do we govern AI?", which explored AI governance with stress on the need to develop and apply AI ethics and standards when training machines, to make sure it is utilised for the good of humanity, rather than being harmful.
Meanwhile, at the AI Week, delegates saw the company's various Azure-based AI platforms in action at the Microsoft booth. Microsoft experts demonstrated various Cognitive capabilities of Microsoft AI platform through industry-specific use cases from face-recognition to chatbots, and emotion detection to object analysis.