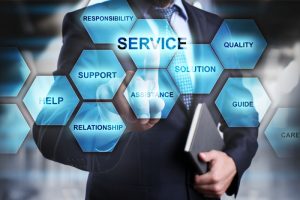 Amer Khreino, CEO, Raqmiyat, says, services will enable systems integrators to add value to their customers and be profitable.
The systems integration industry has evolved over time with the rise of new and emerging technologies. Increasing number of players are transforming their business processes and offerings to meet the changing customer demands in order to be relevant in this new era.
How exactly can a systems integrator differentiate to be in sync, if not ahead, of the market?
"As technology providers adopt cloud as the medium to deliver their solutions, services become the main differentiator and value-add to system integrators wishing to contribute to customers' success," says Amer Khreino, CEO, Raqmiyat.
Whether it is infrastructure, office applications, analytics or security solutions, it is only a matter of time before end-users completely migrate to cloud. This unlocks new opportunities for systems integrators to explore consultancy, migration and integration services, which are added value propositions.
Consecutively, we have seen that systems integrators now prefer to refer to themselves as 'service providers' rather than 'solutions providers'. While terminologies will evolve as the market trends change, giving them new dimensions, how has this shift taken place?
Khreino says, "When software applications were delivered on premise, systems integrators tend to claim that they are the providers of such solutions, connecting the puzzle's pieces to work together.
"In reality, they were integrating the various components of the applications, networks and infrastructure, offering their customers the means or 'solutions' to address their specific needs."
But a solution provider needs to possess the intellectual property, and not only the deployment and integration capabilities, he adds.
"In an era where all such solutions and applications start becoming available to customers directly through a cloud offerings, system integrators' claim as a 'solution provider' began to diminish, transforming their activities to more of consulting and services that cover presales activities, as well as, migration, integration and managed services."
Having been in operations for more than two decades, Raqmiyat has stood the test of time by reforming and evolving to market changes.
Khreino says, "We have embraced a new vision, Raqmiyat 2020, where we focus our attention on our core competitive advantages including, presales and consulting services, project management and project financing together with typical systems integration such as account management, sales leadership, business and market development."
Evolution in technology has transformed businesses as well as the way we learn and communicate. Today organisations are in the midst of digital transformation, which will further have an impact on business models.
"Cloud and cognitive are two aspects that will redefine many professions and businesses in this decade, creating the need of different skills set," says Khreino. "It will also impact global talent distribution, as well as, revenue, cost structures and GTM strategies. Therefore, it's inevitable for any systems integrator to evolve and embrace this change to stay competitive and profitable."