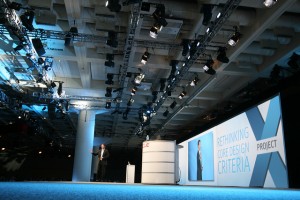 EMC plans to sell flash storage for use across data centres and is developing software to tie all those components together.
The company is using technology it gained through its acquisition of XtremIO earlier this year to build an all-flash array code-named Project X, which is due to hit the market next year. But that platform will also introduce software that EMC plans to use with flash products in other environments, including on servers and within server networks.
Project X provides an opportunity to design a storage architecture based on flash from the start, without traditional approaches inherited from HDD (hard disk drive) platforms, said Zahid Hussain, Senior Vice President and General Manager of EMC's flash products division. The fresh start will help new platforms get the most out of flash, he said at a press event in San Francisco on Tuesday.
There are things you can do more cleanly in an all-flash architecture, Hussain said. Those include guaranteed quality of service and in-line data deduplication, he said. He compared the two types of storage products with flash to electric cars and hybrids, each presenting their own engineering opportunities and constraints.
Many enterprises have adopted NAND flash as a component of their storage architectures, seeking benefits including faster access to data and less space and power consumption, despite the technology's higher cost per bit. EMC says more than half its storage arrays ship with some flash built in. The company has been working with flash since 2005 and introduced its first products with the technology in 2008.
EMC's flash efforts have focused mainly on components to speed up disk-based external storage, while smaller vendors such as Fusion-io have positioned the technology on fast interfaces within servers for an optimal performance boost. EMC now offers its own server-based flash product, called VCache, and says it is best positioned to tie that into an overall enterprise storage architecture.
In May, the company bought XtremIO, an all-flash array vendor based in Israel, for US$430 million. Project X, the first major product EMC has developed using technology from XtremIO, is now in beta testing and is set for general availability next year. It will be an all-flash array built with x86 processors and standard SSDs (solid-state disks), with standard storage network interfaces such as Ethernet and Fibre Channel. However, the core of the product is software that can be applied to other flash-storage elements across an enterprise, Hussain said.
"It is an x86-based software that takes full advantage of multicore, understands the characteristics of flash, and is designed to be modular and scalable," Hussain said. "That's a very powerful thing for us to start with."
"The foundational technologies of Project X become something that we're able to use not just in the storage array, but over time, really draw that towards what we do in server," said Daniel Cobb, chief technology officer of the flash group. The software includes valuable intellectual property around data deduplication, next-generation RAID, the ability to easily scale out flash storage systems, and management of multilevel-cell flash, which can save money, Cobb said.
EMC sees that software as eventually spanning all the flash storage elements in an enterprise. Meanwhile, the company will continue to develop VCache, as well as Project Thunder, its planned flash appliances that will be designed for optimal hardware performance and density and will reside on server networks, Hussain said.
"Our intent is, we're going to set the pace," he said.