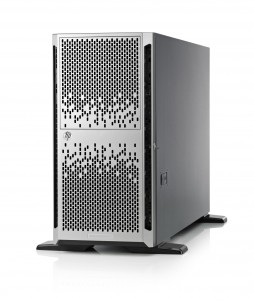 Hewlett-Packard (HP) says it will address the I/O bottleneck created by internal and external storage in its next generation of ProLiant servers, boosting performance by up to 50% for popular applications such as online transaction processing (OLTP) and streaming video.
HP said in two separate blog posts that its upcoming ProLiant Gen8 server line will offer solid-state drives (SSDs) in combination with a data caching algorithm that it calls Dynamic Workload Acceleration .
The HP ProLiant servers include a 6Gbps embedded SAS controller that movse from using SAS 15,000rpm hard drives to SAS-based SSDs. The new controller offers six times the performance of previous generation controllers. DRAM cache capacity is also being doubled on the servers.
"Yes, Gen8 will be a screamer and workloads will run at remarkable levels," said Steve Schultz, who leads HP's Smart Storage Firmware Engineering team. "But beyond performance, storage capacity is another pain point."
ProLiant Gen8 will also support up to 50% more hard drives over the previous generation line, for up to 36TB of capacity in a single 2U DL380.
HPs strategy revolves around its Gen8 Smart Array RAID controller, which uses SSDs and a caching algorithm it calls Dynamic Workload Acceleration for ProLiant Gen8. The algorithm will migrate the hottest data to the highest-performance storage.
HP claims that its Gen8 Smart Array RAID controller with SSDs is 60 times faster than the previous generation controller with hard disk drives. And, with PCIe Gen 3 support, bandwidth has been increased by more than 85%, the company said.
HP launched its current Gen7 ProLiant server line in March 2010. Last month, HP released some details about the next-gen ProLiant server line , which is based on Intel's upcoming Xeon E5 processors.
In addition to supporting SSDs in its ProLiant server line, HP said it is offering something called SmartMemory and "flexible" 10GbE networking ports.
HP said that with SSDs, Dynamic Workload Accelteration, SmartMemory and 10GbE connectivity performance of some applications will increase by up to 50%, including transactional throughput for OLTP and video streaming. It also said the servers will use 88% less energy and 75% less floor space, and enable the deployment of 30% more virtual machines (VMs) with a reduction of 40% in energy-per-VM.
"We designed our memory to handle enterprise application workloads by increasing the bandwidth by 25% while offering 50% better capacities and 35% memory uptime improvement using our Advanced Memory Error Detection Technology," HP said in a blog. "Key goal for our memory design was to achieve power efficiency as we increased performance. All this translates to more virtual machines, database acceleration and efficient balanced system resource allocation to handle any workload."