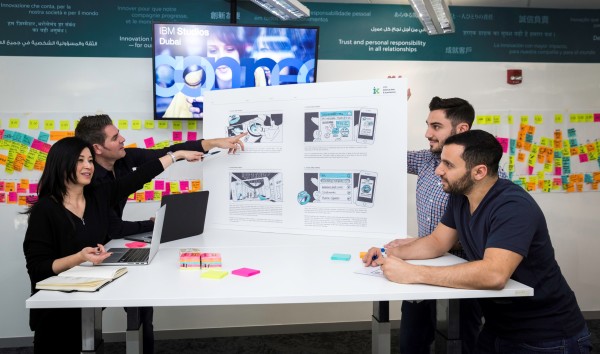 IBM has announced the launch of IBM Studio in Dubai, a new centre of experience design and digital expertise to help clients transform.
The Studio extends the footprint of IBM Interactive Experience, blending experience design with the full spectrum of business transformation capabilities, from industry and strategy consulting through systems integration. The IBM Studio – Dubai was inaugurated by His Excellency Abdulla Abdul Rahman Al Shaibani, Secretary General of the Executive Council of Dubai.
"Today's most successful companies have design embedded in their DNA," said His Excellency Abdulla Abdul Rahman Al Shaibani, Secretary General of the Executive Council of Dubai. "Dubai is one of the most creative and vibrant cities in the world, with a leading digital economy. We believe that good quality design improves people's lives and creates value for businesses. We support and encourage companies such as IBM that recognise and value the importance of design, bringing it into the heart of what they do."
Located in the Dubai Design District, the studio will serve as a hub for IBM Design in the Middle East and will host local teams from IBM Interactive Experience (IBM iX), the world's largest digital agency according to Advertising Age.  IBMiX clients from all industries, such as automotive, financial services, government, healthcare, telecommunications and retail, will be able to work side-by-side with IBM consultants and experience design experts to analyse business challenges and develop solutions grounded in more personalized, individualized digital experiences.
IBMiX's global client roster includes Nationwide, Jaguar Land Rover, Citibank and the Atlanta Stadium, home to the Atlanta Falcons of the National Football League. IBMx, recently announced its intent to acquire Ecx.io, a design agency based out of Dusseldorf, Germany, Resource/Ammirati, a US-based digital marketing and creative agency, and Aperto, a digital agency with headquarters in Berlin.
IBM's studio in Dubai will join the growing network of more than 20 IBM Studios in locations including Austin, Atlanta, Boston, Chicago, Toronto, Groningen, Melbourne, Mexico City, Hursley, London, New York, Dallas, Sao Paolo, Madrid and Shanghai.
"Design is a constant exploration of both creation and value. At IBM, we believe that businesses need to do more than just make great products, but also craft experiences that delight users and can shape the future," said Amr Refaat, General Manager, IBM Middle East and Pakistan. "IBM Studio – Dubai will bring exceptional digital experiences to this increasingly digital city, and we look forward to transforming how our clients engage with the world at large."