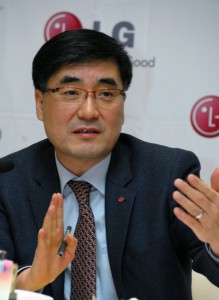 LG's new OLED TV and Ultra HD TV should give the brand a head start for 2013 in the highly competitive home entertainment market, the brand has asserted.
Speaking at the Consumer Electronics Show (CES) in Las Vegas, Havis Kwon, President and CEO of LG's Home Entertainment Company, said that he believes the brand could lead the next-generation TV market with its new products.
"2013 is an important year because, for LG, it marks the beginning of a new TV era," Kwon said. "With game-changing products such as the OLED TV and Ultra HD TV, we are in a strong position strategically to lead the industry."
Kwon also explained that LG will release the next generation of TVs well before anyone from the competition will.
"Delivery of our Ultra HD TV well before the competition and the imminent release of our OLED TV in the first quarter of 2013 will give us a head start in a market where speed is a critical component of success," he said.
The 55-inch OLED TV, which was lauded with a host of design awards upon its unveiling last year, will be available in North America, Central and South America, Europe and Asia when it is launched in Q1 2013.
Kwon also committed to increasing LG's R&D and marketing investments in OLED technology, explaining that he wanted the OLED TV concept to be associated with LG.
In terms of Ultra HD TV line-up, Kwon promised that LG will soon release a number of new sets to complement the 84-inch Ultra HD TV that was first unveiled at 2012's CES. Already previewed at CES 2013 were 55 and 65-inch variants that, Kwon said, will launch soon in 100 countries.
The 84-inch version has only been available in 40 countries since it launched, and LG has so far only paired with Korean broadcaster KBS to develop Ultra HD content. In his speech, Kwon expressed an interest in forming partnerships with overseas broadcasters to develop Ultra HD content.