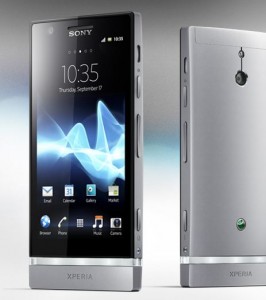 Sony's Xperia P is far from a flagship smartphone, and, having been released early last year, it is ageing quickly. And yet we believe that the device failed to see as much coverage as it deserved, simply because it offered stunning value for money. Even now, as the next generation of smartphones looms its head, the Xperia P should be impossible to ignore when searching out a new phone.
The Xperia P ships with Android 2.3, which, in technological terms, is an ancient operating system. To upgrade to Android 4.0, users have to plug the phone into a PC and download the update. However, when we tried to upgrade the phone with a MacBook Pro, the two devices wouldn't talk to each other at all. With a Windows PC, this is no issue.
On the plus side, everyone is drawn to the Xperia P as soon as it is out on show, and many ask frantically what the device is, signalling a unique and extremely pretty design. As a fashion accessory, then, the P scores well.
In terms of usability, the screen isn't bad at all. It was the first smartphone to use Sony's White Magic technology, which sees a fourth white sub-pixel added to the traditional red, green and yellow pixels of a conventional LCD screen. This makes for a nice, bright display, even under the glaring Middle Eastern sun.
Sony also claims that this technology will save on battery life, but the Xperia P suffers from the same lack of battery power as all too many smartphones do. On one day that involved heavy tweeting and texting, we only got about six hours out of the device before the battery went flat.
The Xperia P's camera, on the other hand, is excellent. It's an 8-megapixel unit with an LED flash. What's really impressive is how well the camera uses all of its pixels – pit it against the superb camera on the iPhone 4S, and users will be hard-pressed to tell the difference in terms of contrast and quality, even under low light. Users can also record full HD video, though they'll have to switch to a lower resolution if they want to edit the videos on the phone.
The best thing about the entire package, though, is its price. With a retail price, when it was new, of Dh1,399, the Xperia P offers true value for money. It's certainly not Dh1,000 worse than a top-end Android smartphone, that's for sure, making it the bargain of 2012.