The Information Technology Authority (ITA), represented by the Arab Regional Cybersecurity Centre of ITU has signed a partnership agreement with the Oman Oil Company (OOC) to provide the company and its subsidiaries with cybersecurity services.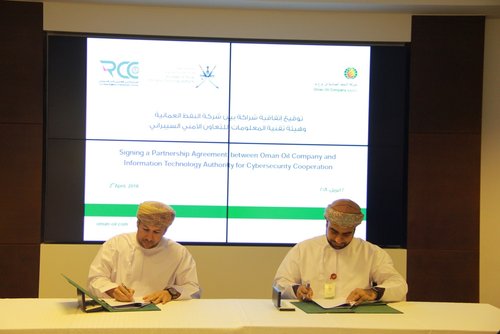 The partnership was signed by Eng Bader Ali Al Salehi, head of the Arab regional cybersecurity centre and the DG of Oman National CERT at ITA; and Saleh bin Abdullah Al Musalhi, director-general of Human Capital, ICT and Supply Chain at OOC.
"Signing this partnership agreement is part of the initiatives adopted by the centre to promote cooperation with the private sector, particularly to enhance cybersecurity within the critical national infrastructure industry (CNIs)," said Al Salehi. "The partnership agreement aims to enable CNIs to benefit from the cybersecurity services offered by the regional centre to enhance cybersecurity readiness at CNIs, as well as engage Omani companies to contribute to the delivery of cybersecurity services."
The partnership consists of providing specialised cybersecurity services, including customised training opportunities in the field of information security for OOC and its subsidiaries, which are in line with internationally recognised standards.
"The partnership takes place at this critical period where CNIs, especially the oil and gas industry, have always been targeted by cybersecurity threats regionally and internationally. Thus, the partnership includes specialised cybersecurity training and awareness programmes, cyber threat and notification services, security assessment services and the opportunity for OCC and its subsidiaries to participate in regional centre events," he further added.
The training programmes will include a number of technical and specialised topics in the field of cybersecurity, such as risk assessment and detection of vulnerabilities, which will contribute in protecting organisations from attacks that may occur as a result of these vulnerabilities or reduce the impact of risks, in case they occur; additionally, the services also include cybersecurity assessments and cyber threat and risk notifications services.
Al Musalhi from OOC said, "Due to the continuous rapid development of the IT platform, and the ongoing IT security issues the world has faced recently, it is of utmost importance for us as a group of companies to ensure we create partnerships with industry experts to enhance our training opportunities for further knowledge transfer and to adopt the best practices to mitigate threats."