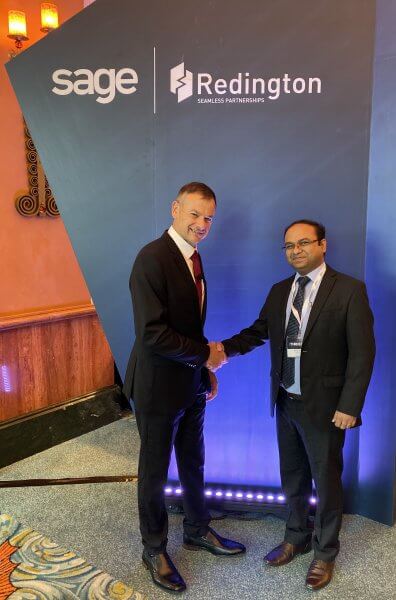 Cloud business management solutions provider Sage has signed a distribution partnership in the Middle East region with Redington to deliver Sage's mid-market products and services as an Authorised Sage Distributor.
The partnership agreement, according to the company, enables Sage to expand its presence in the Middle East, simplify and improve operational processes, and reach new markets and new customers.
Redington was considered to be in the best position to support the long term growth strategy of Sage in the Middle East. The agreement covers the UAE, Bahrain, Oman, Kuwait, Saudi Arabia and Jordan.
Pieter Bensch, EVP for Africa and Middle East, Sage, said, "Businesses in the Middle East have long recognised the need to move from legacy business software systems to smarter cloud-based business solutions that are both affordable and fit for purpose. By partnering with Redington, we have the opportunity to expand Sage's footprint across the region, work with their extensive partner network to reach new customers and embed Sage values across the ecosystem. We will refocus existing efforts on the UAE and KSA and expand to new markets, including Bahrain, Oman, Kuwait, Jordan. We look forward to also growing our independent software vendor network and provide companies in the GCC with more tailored and vertical-specific solutions."
As an Authorised Sage Distributor, Redington will act as an intermediary between, channel partners, resellers and system integrators. The agreement grants Redington the official distribution rights for Sage 300, Sage 300 People, Sage CRM, Sage X3 and Sage 200, all of which are award-winning cloud-powered software solutions for accounting, payments, payroll and more that cater to medium-sized enterprises.
"Strategic synergies are a vital tool for organisations to move forward while leveraging each other's expertise, networks and knowledge. This mutually beneficial partnership with Sage opens new opportunities for us to help businesses in the Middle East face challenges and stay competitive through utilising technology to drive efficiencies," said Sayantan Dev, Senior Vice President – IT Value Distribution, Redington, which has an extensive portfolio of 220 international brands in the IT and mobility sectors across more than 30 emerging markets.