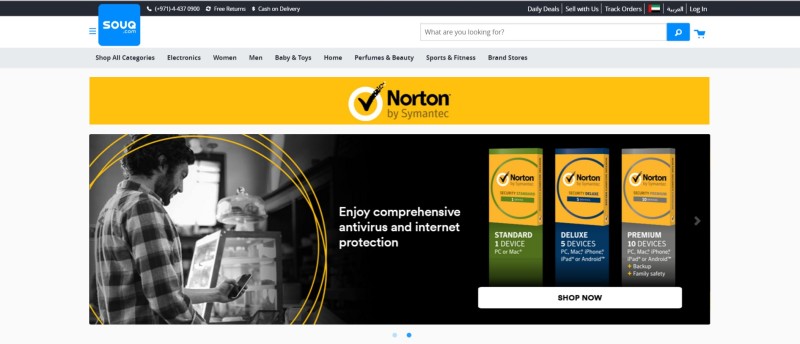 Souq.com has unveiled its partnership with Norton by Symantec to host a new Norton brand e-store on its retail site for customers in the UAE and Kingdom of Saudi Arabia (KSA).
The e-store will provide a one-stop shop for customers looking to protect their devices using Norton's flagship service, Norton Security.
Norton's security solutions, including Norton Security Standard, Norton Security Deluxe, and Norton Security Premium, will be available on Souq.com website and via its mobile application. In addition, customers can take advantage of multiple payment options, including secure payment online and cash on delivery.
Tamim Taufiq, Head of Middle East Partnerships, Norton by Symantec, said, "Our partnership with Souq.com is the beginning of something exciting for us as a brand. As the largest e-commerce platform in the Middle East, Souq.com is in a prime position to offer existing and new Norton customers with one of the best online shopping experiences for our products and services. As cyber-crime continues to infiltrate into our everyday lives, it's vital that consumers in the Middle East protect themselves and their devices. The new e-store offers an easy way for everyone to be just a click away to help protect their identity, digital assets, and sensitive data from falling into the wrong hands."
Cybercrime is highly lucrative for hackers; more than two million UAE citizens experienced cybercrime in the past year and lost AED 4.9 billion in total, according to the 2015 Norton Cyber Security Insight Report. In addition, the report also revealed that UAE consumers lost close to a day-and-a-half (30 hours) dealing with the consequences of online crime, with the average cost of such crimes being AED 2,331 per person
Ronaldo Mouchawar, CEO and Co-Founder, Souq.com, said, "This region has one of the highest uptake of mobile devices, hence protection against threats and data security is crucial. We are pleased to support Norton to launch its brand e-store on our site. This move will allow consumers in the UAE and KSA to access Norton's security services at the click of a button, and also receive support from our skilled customer service representatives, who are well-versed with Norton security solutions."